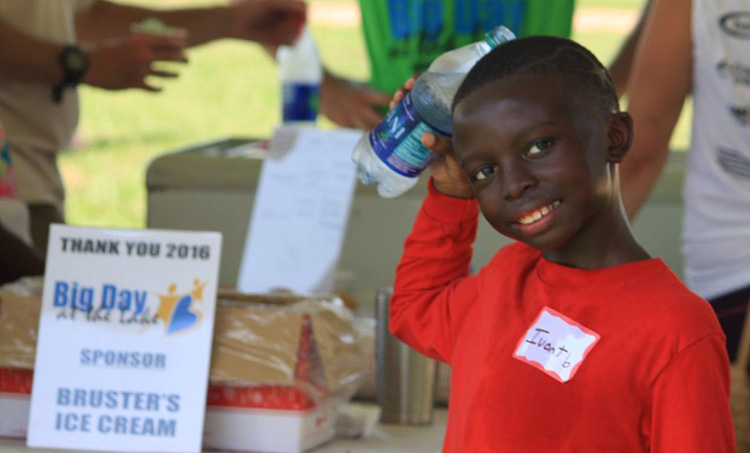 Big Day at the Lake has officially launched its 15th year with more than $86,000 in pledges and donations from individuals and corporations supporting Big Brothers Big Sisters of Central Carolinas during the first 30 days. Wells Fargo just signed on as the third Presenting Sponsor, contributing $10,000 directly to BBBS.
Big Day at the Lake, which is locally based in Cornelius, has three goals: Provide a full day of fun on Lake Norman for at-risk kids from Big Brothers Big Sisters; raise money for a worthy non-profit; and recruit Bigs, or mentors, for at-risk children.
"Atrium Health's mission is to improve Health, elevate Hope, and advance Healing – for all. So, it was a natural fit for Atrium Health to partner with and support Big Brothers, Big Sisters as they help all children achieve success in life," said Lois Ingland, vice president of community engagement at Atrium, which is one of the largest non-profit hospital networks in the nation, with more than 60,000 employees.
BBBS serves some 1,375 children; about 300 are in North Mecklenburg. The missions of Big Day at the Lake and BBBS line up with one of the major challenges facing Charlotte: The lack of economic mobility for those born into the lower demographic tiers.
Kevin Mahl, one of the owners of Champion Tire, said the Cornelius-based NASCAR-related
company gets a lot of requests each year from non-profits.
"Big Day At the Lake is one that we tend to always answer the call. We see it as a great way for us to invest in our local community, a way to build upon a solid foundation. BDATL provides a means for the kids to gain a new perspective, one they would not otherwise have," Mahl said.
Big Day at the Lake brings people together—including at-risk children—who would not otherwise come together, giving them a source of hope and inspiration, Mahl said.
"Who knows, they could grow up to lead Champion Tire & Wheel. We've learned over the years that you just can't make any assumptions or underestimate the power of people if just given a chance to succeed," he said.
Cornelius residents Emily and Jamie Rolewicz hosted the Big Day at the Lake kick-off at their home with a reception for about 100 business leaders and elected officials. Eleven Lakes Brewing, located in the Hyde Park complex on Bailey Road, supplied beer. Rolewicz and Mahl are partners in Champion Tire & Wheel and developed Hyde Park.
Davidson Mayor Rusty Knox sang and played the guitar during the event.
Speakers included NC Rep. Chaz Beasley and a Big Brother, Ray Bush, a resident of The Peninsula. Other speakers included Jeff Weir, co-owner of Freedom Boat Club, Cornelius Mayor Woody Washam and Donna Dunlap, CEO of Big Brothers Big Sisters of Central Carolinas.
Mecklenburg County Commissioner Pat Cotham attended as well as Huntersville Mayor John Aneralla and Cornelius Town Commissioners Denis Bilodeau, Mike Miltich and Kurt Naas.
A team of 20 volunteers helped staff the kick-off, including valet, coat-check and guides.
Fundraising co-chairs Jim Duke and Della Stafford set the Big Day at the Lake fundraising goal this year at $150,000 for Big Brothers Big Sisters of Central Carolinas.
Upcoming fundraisers include the Beach Bash on May 2 and Celebrity Bartending. Big Day at the Lake this year is July 20.
Ingland said the Atrium team is excited to be a presenting sponsor of Big Day at the Lake because it helps provide access to swimming, boating and a day of healthy, fun activities.
The Big Day at the Lake sponsorship complements Atrium's year-round support of the BBBS "Beyond School Walls" program, providing 90 personal mentors for students at three of its hospital campuses.
Companies such as Duke Energy and AlphaGraphics Lake Norman provide in-kind services, as well as a variety of restaurants and vendors who support the picnic each year at the Energy Explorium.