Aug. 28. By Dave Yochum. The number of new cases off the coronavirus rose by 1,415 in today's NC Dept. of Health & Human Services report, down from the past month's high of 2,091 new cases yesterday. The previous August high, 2,008 new cases, was set on Friday last week.
Meanwhile, the state's median number of daily cases over the past week is running 5.36 percent ahead of the median number of daily new cases during the past month, based on data compiled from Johns Hopkins University.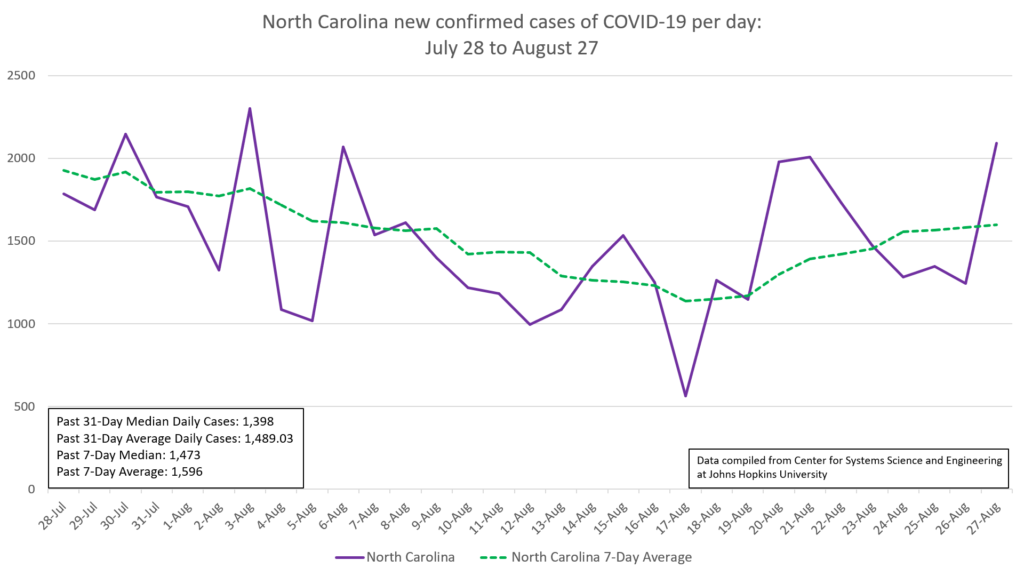 Previously the median number of cases over the past week were trending below the media over the past month. To review the Johns Hopkins data around the COVID-19 outbreak, click here.
Daily new cases are considered a leading indicator in tracking the spread of COVID-19, while hospitalizations and deaths are lagging. "Initial hospitalization is a lagging indicator if you are looking at new infections, but it is a leading indicator if you are concerned with hospital capacity and deaths," said Chuck Dinerstein, MD, MBA in the American Council of Science & Health.
Deaths are the ultimate lagging indicator, and troubling for measurement purposes, he said.
Heuristic means hands-on
"It is a lagging indicator, of course, but has become a repository for anything that looks or seems to be 'a horse.' By horse, I am referring to the medical heuristic that tells physicians to consider the common problem, "When you hear hoofbeats, you don't think of zebras,'" Dinerstein said.
Many deaths at home are being attributed to COVID-19, even though physicians are wondering aloud where all the patients with other acute medical problems have gone.
Nevertheless, the NCDHHS reports them every day.
Today's report shows 22 new deaths, down from 24 yesterday and 36 on Wednesday. The statewide total is now 2,652.
Hospitalizations
Total hospitalizations in North Carolina rose by 12 to 970. Back on Aug. 1, there were 1,129 people hospiitalized due to COVID-19, according to NCDHHS
NC testing
Positive tests are coming back at a more encouraging 6.9 percent, down from 8.2 percent in yesterday's repport. Early in August, before some students returned to school, the rate was running at 6 percent positive, and then climbed into the 7s this past week. A positive test rate trending downward from 5 percent is the goal from a statewide perspective.
Mecklenburg County
Over the past seven days, Mecklenburg accounted for 10.4 percent of the state's new confirmed cases per day, according to local data from Johns Hopkins University. The proportion is up slightly from yesterday but down from 16 percent one month ago, and more in line with Mecklenburg's share of the state population.
In Mecklenburg, positive tests are coming back at the rate of 6.1 percent, according to NCDHHS.
The median number of daily new cases over the past week is 12 percent down new cases per day during the past month.
(See chart below.)
NCDHHS today reported 103 new cases in Mecklenburg—down from 199 new cases yesterday—for a total of 24,847 since the outbreak began.
North Meck
Cornelius: 4 new cases, total 420 (350 on Aug. 2). 16 deaths total, none new in more than a month
Davidson: 0 new cases, total 238 (193 on Aug. 2). 5 deaths total, none new this month
Huntersville: 3 new cases, 781 total (582 on Aug. 2). 11 deaths total, 1 new Aug. 26