Calendar Sponsors
Monday, Oct. 9
7:30 pm | Oct. 9. Free and open to the public in-person and live streaming. Davidson College Presbyterian Church, 100 N. Main St., Davidson.
Tuesday, Oct. 10
Lake Norman Chamber of Commerce Business EXPO
11 am – 5 pm | Oct. 10.  Lake Norman Chamber of Commerce Business Expo is the Largest Trade Show / Community Expo in the Lake Region. It's open to the public and there is no charge to attend. Lunch will be available for purchase. Huntersville Recreation Center, 11836 Verhoeff Dr., Huntersville.
Wednesday, Oct. 11
9-11 am | Oct. 11. Extension Master Gardener Volunteer Service volunteers will be on hand to answer questions about watering, fertilizing, a specific crop, how to grow, what to grow or harvesting. FeedNC in Mimi's Garden  under the Picnic Pavilion, 2456 Charlotte Hwy., Mooresville.
Thursday, Oct. 12
7-8:30 pm | Oct. 12. Sponsored by Lake Norman Chamber of Commerce. Cornelius Town Hall, 21445 Catawba Ave.
Creative Clay/ Pottery Family Workshop
6:30-8 pm | Oct. 12. Clayworks will lead participants in a hands-on clay workshop. Space is limited, so reserve your spot. Projects will be taken to Clayworks to be fired and glazed before being returned for pickup. Please allow 3 weeks for this process. David B. Waymer Recreation and Senior Center,  14008 Holbrooks Rd., Huntersville.
Friday, Oct. 13
2nd Friday Street Festival Series
6-10 pm | Oct. 13. Oktoberfest. Live music, food and beer trucks, kids zone, vendors. Oak Street Mill, 19725 Oak St., Cornelius.
11 am – 7 pm | Oct. 13. Meal includes BBQ Chicken, Baked Beans, Coleslaw, roll. All meals on a to-go basis; drive up, present your ticket and received your meal to-go; no need to even get out of your vehicle. Advance ticket purchase required, $10; phone 704-875-6683. Ramah Presbyterian Church, 14401 Ramah Church Rd., Huntersville.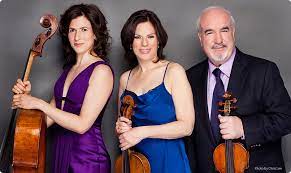 Davidson College Concert Series: Amerigo Trio, featuring Glenn Dicterow, Karen Dreyfus, and Inbal Segev
7:30-9 pm | Oct. 13. New York Philharmonic Concertmaster Glenn Dicterow formed the Amerigo Trio with Grammy-nominated violist Karen Dreyfus and critically acclaimed cellist Inbal Segev. Adult $20; senior $15; child $5. For tickets, please contact the Union Box Office at 704-894-2135. Sloan Music Center, Tyler-Tallman Recital Hall, Davidson College.
SOLD OUT: 8 pm | Sept. 9. Jeff Allen's rapid-fire humor, which centers on marriage and family, is a hit with all ages. Tickets: $40-$60. Cain Center For The Arts, 21348 Catawba Ave., Cornelius.
Saturday, Oct. 14
2-3 pm | Oct. 14. Have you completed the same puzzles more than once? Ready for some new ones? Bring your gently used puzzles and leave with new-to-you puzzles. Puzzles must be 100+ pieces without any missing pieces. Children's puzzles must be swapped for children's puzzles. Cornelius Library, Catawba Avenue.
Girl Scouts Food Drive
9-11 am | Oct. 14. Girl Scouts Troops 2303 and 864 will hold a Food Drive at the corner of Jetton Road and Peninsula Club Drive N. as well as the corner of Harbor Light and Flying Jib Road adjacent to the pocket park in Cornelius.
Donations benefit Loaves & Fishes and Ada Jenkins; no jars or glass. Check donations work, too; make them out to Meck 1 Girl Scouts). You may also drop off food in advance. There will be a Rubbermaid bin on the front porch of 17935 Peninsula Club Drive North., Cornelius.  Questions: Call or text Melissa Hart at 704-517-9724
7 pm | Oct. 14. "Hocus Pocus 1." Free. Seating is first come, first serve. Bring additional blankets and chairs; no coolers allowed.The Plaza, Birkdale Village.
11th Annual Laketoberfest Music & Brew Festival
4 – 9 pm | Oct. 14. Live music, beer from local NC breweries, food trucks, kid's zone with crafts and games. Free admission and parking. Bailey Road Park, Cornelius.
2 pm| Oct. 14. Classical. Tickets: $47-$72. Cain Center For The Arts, 21348 Catawba Ave., Cornelius.
Noon-11 pm | Oct. 14. Join Cornelius Mayor Woody Washam as Lost Worlds Brewing taps a cask of Kellerfest at noon to carry on the Munich tradition. Live music with OOPS Band for polka and drinking songs, food and stacks of steins to get the party rolling. Lost World Brewing, 19700-D One Norman Blvd., Cornelius.
5-6:30 pm acoustic artist; 7-9 pm headline artists | Oct. 14. Envision. Live music on Jetton Street near Clean Juice, Davidson. This block of Jetton Street will be closed from noon-10 pm on concert evenings.
2 – 5 pm | Oct. 14. Enjoy bites from participating Birkdale Village restaurants, an open bar with curated cocktails, live music and more. $60 per person.Ticket proceeds benefit Community Culinary School of Charlotte. Must be 21+ to attend this event. Tickets are all inclusive and includes open bar, complimentary bites from participating restaurants, and access to The Plaza and lounge seating at Birkdale Village, Huntersville.
5-10 pm | Oct.14. This annual event is a fall festival to celebrate the flavors of Davidson and will feature food and beverages from restaurants as well as music by Envision. Jetton Street between Clean Juice and Mine by Sandy will be blocked off to accommodate the event, but there is public parking at the Circles @ 30 for festival goers. Admission to the event is free. Local restaurants will offer tastes of some of their most popular menu items for a small fee. Jetton Street at Circles @ 30, Davidson.
11 am -4 pm | Oct. 14. Throughout the day, families and their leashed dogs can enjoy live music, a beer garden, food trucks, doggy treat truck, a doggy costume contest, local vendors, barnyard animal ambassadors, activities for kids and pumpkin painting. Guests will have access to the Rescue Ranch's nature trails and the 10,000 square foot inclusive playground. Admission is $5 per person and children 1 and younger and dogs are free. All dogs are kept on leashes, are well-mannered and fully vaccinated. Proceeds benefit Rescue Ranch, 1424 Turnersburg Hwy., Statesville. Click here for details and to register. 
Saturday, Oct. 14 – Sunday, Oct. 15
9:30 am – 5:30 pm | Oct. 14-15. Brewfest Weekend. Sample a selection of fine micro-brewed ale (the traditional drink of the Middle Ages), play a series of RenFest Beer Games. Brewfest activities start at noon. Sampling sales end at 3:15 pm and activities end at 4:00 pm. Tickets on sale now.  Rain or shine; no pets. 16445 Poplar Tent Rd., Huntersville.
Sunday, Oct. 15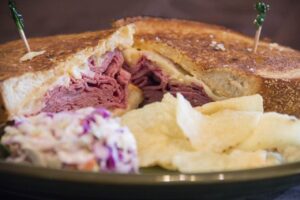 Lake Norman Jewish Council Deli Fest
Noon – 4 pm | Oct. 15. The annual event is all about the food. Kosher-style, authentic, traditional, delicious Jewish Deli favorites. There's also music and arts. Perfect for kids of all ages. Save the date, bring your family and friends for tons of fun and food. Village Green, downtown Davidson.
Jon Hill & Jon Singleton: Old-time Music
3-4:30 pm | Oct. 15.  Old-time power duo perform a concert full of traditional music rooted in the Appalachians. Admission is free, but tickets are required. For tickets, please contact the Union Box Office at 704-894-2135. Sloan Music Center, Tyler-Tallman Recital Hall, Davidson College.
Through Sunday, Oct. 15
Pre-orders for the 84th Annual Mt Zion BBQ is ongoing until Oct.15. BBQ sold by the pound, with sauce included, $12; slaw $5 a pint. Pick-up will be Nov. 4 at the church, 19600 Zion Ave, Cornelius.
Select evenings in October
Scarrigan Farms haunted trail, featuring deranged clowns, monsters, classic slashers, zombies and more. The haunted trail costs $20 to $50 per person depending on the date. Reservations are required for the haunted trail and can be made at www.scarriganfarms.com. The trail is not for the faint of heart and all participants must be 12 years old older to enter. Scarrigan Farms,  1213 Oakridge Farm Hwy., Mooresville 28115.
Through the end of October
Pumpkin picking at Carrigan Farms
Pumpkin picking at Carrigan Farms with tractor-drawn hayrides is the authentic pick-your-own experience and includes picking a pumpkin right off the vine. Advanced reservations are required. The cost for pumpkin picking is $15 per person and includes a pumpkin from the patch. Apple cider donuts and apple cider slushies are available on Saturdays and Sundays and their farm market will have other seasonal pumpkins and gourds available for purchase. The farm and the food truck are both cash only. Carrigan Farms, 1261 Oak Ridge Farm Hwy. (Intersection of 150 & 152),  Mooresville.
Through Nov. 11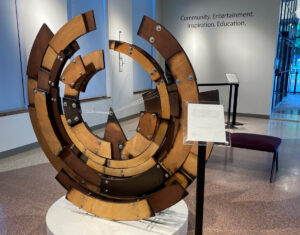 The Art of Mechanics
An exhibit by Anna Grant Dean, who was recently a part of the Class of '23 in ArtPop Street Gallery. Dean's work demonstrates the creative process as well as the understanding of engineering. Her ability to install large scale sculpture demonstrates how creative the mind can be. Gallery Hours: Tuesday – Friday, 10 am – 4 pm. Cain Center for the Arts, Catawba Avenue, Cornelius.
Through Nov. 11
9 am – 5 pm Monday – Friday; 9 a m – noon Saturday. The gallery show showcases functional, sculptural, and experimental work that utilizes clay as the primary material. A celebration of a variety of use and techniques. Cornelius Arts Center, 19725 Oak St, Cornelius.