Dec. 22. Yes, that was thunder this morning, but rain will end today as it gets colder and colder, with temps dipping into the teens Friday night, Christmas Eve and Christmas night. It's will be cold enough to take extra precautions around the house; pipes can freeze in this weather.
Thursday's high will only be about 45. Daytime temps will fall to 20 by early Friday evening. The high Christmas Eve, 28; Christmas Day, 35. Check the local weather here any time, thanks to the National Weather Service.
Thursday: Rain tapers off, 30 percent chance of showers tonight, low 21. Windy at times with gusts to 44 mph.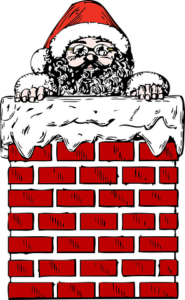 Friday: Partly sunny, becoming sunny and 32 around noon, but only 20 by 5 pm. West wind 15 to 18 mph, with gusts much higher. Night-time low could hit 10 degrees.
Christmas Eve: Sunny, high near 28. Wind 9 to 11 mph, with gusts as high as 23 mph. Santa will make his rounds here in 14-15 degree temps, under clear skies.
Christmas Day: Sunny, high near 35. Night-time low around 18.
Monday: Mostly sunny, high 38-40. Night-time low around 24.
Tuesday: Mostly sunny, high 43-45. Night-time low around 24.
Weekend Weather, which normally runs on Friday, is being posted today. Cornelius Today and Business Today will be closed Friday and Monday. The newsletter will resume Tuesday, except for breaking local news.