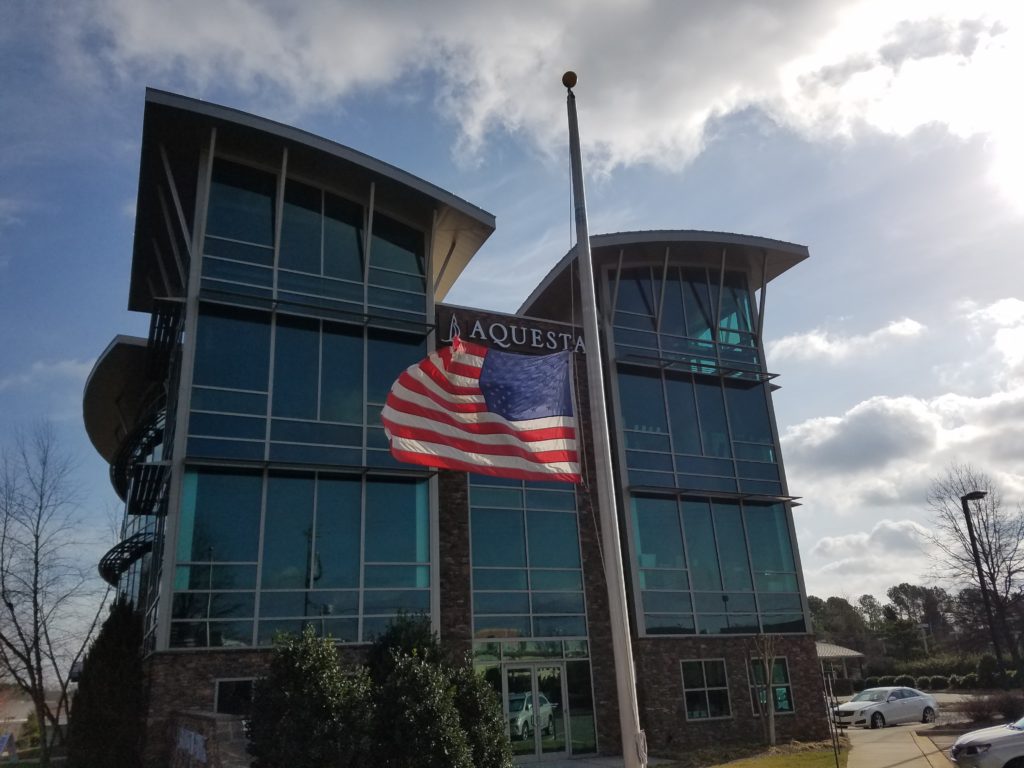 Feb. 16. By Dave Yochum. Flags at local businesses are flying at half staff in honor of those killed at the school shooting in Parkland, Fla. Gov. Roy Cooper said, "Our hearts are broken for people in Florida—for those kids, for those adults who were killed."
The flag was at half-staff at Lake Norman Realty. Abigail Jennings, president, said words seem hollow in the wake of such a horrific act. "It is time for actions. I have hope for a tomorrow where this type of violence is only a memory, but this cannot happen unless real changes are made.  We must work together to see that it does," she said.
President Donald Trump has ordered US flags to be flown at half-mast to honor victims of the school shooting. There have been 25 fatal school shootings since Columbine.  Among the mass shootings from 2009 to 2016, 25 percent of the fatalities have been children.
Safety and security for students and staff are top priorities at Charlotte Meckllenburg Schools and facilities. Here is what CMS shared regarding safety protocols:
• All schools are required to create and update a safety plan to be activated in the event of an emergency. While staff are trained to implement this plan, specific details in these plans are kept confidential to ensure maximum security effectiveness.
• At least twice a year, all schools conduct lock-drown drills during which students and staff practice emergency procedures to block access to rooms. These lock-down procedures are evaluated for improvements after each drill.
• If you see something, say something – any person on any campus should immediately report concerns or possible threats to school staff for response.
• School resource officers (SRO's) in schools are trained for emergencies and staff know to contact law enforcement anytime there is a perceived threat to safety and security.
• Schools across the district are closed campuses, meaning exterior access doors are locked and admittance controlled. Violations should be reported to school staff.
• Lobby area technology provides screening for all visitors, with alerts to staff provided when persons who should not be on campus attempt to be admitted.
• Counseling and support services are always available. Parents can contact school staff if they notice disturbing changes in behavior or think their children may need mental/emotional support for any reason.
• Additional protocols and procedures are in place at every school and CMS facility but are not disclosed in order to preserve safety and security.
The pastors of Community in Christ Lutheran Church and Mt. Zion United Methodist Church said they will include   the tragedy in their services on Sunday.
In Parkland, funerals began today.
Hough High School students are planning a walkout at 

10 a.m.

 

March 14

 to remember the victims of the Florida school shootings. Members of local government are expected to attend.