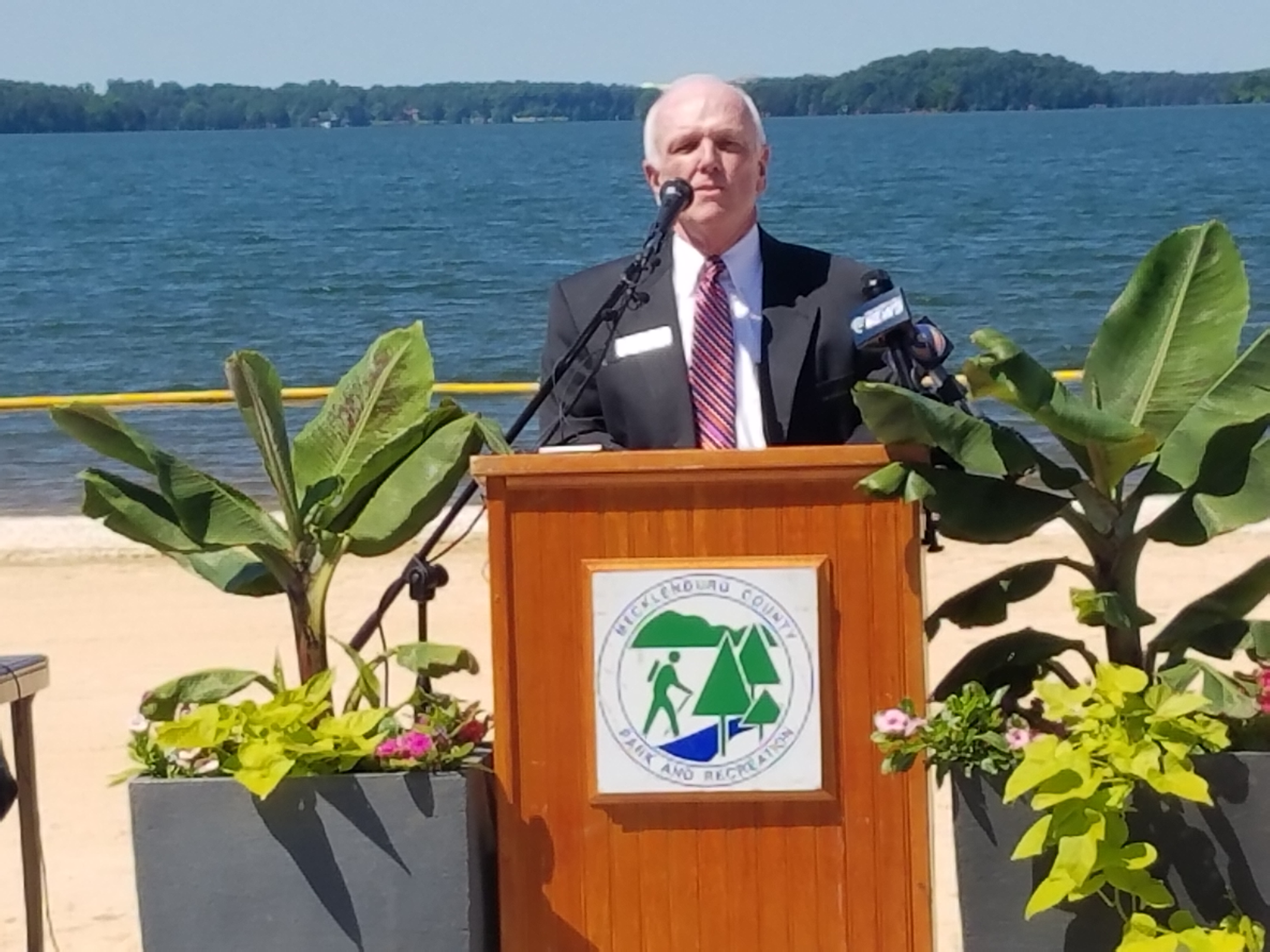 Feb. 8. It's official: Mayor Pro Tem Woody Washam will run for mayor of Cornelius in the November elections. First reported by Cornelius Today​ in the online edition Dec. 14, the popular mayor pro tem of Cornel​ius ​has been the highest vote-getter in the past two elections​.​
There's no official word ​from incumbent Mayor Chuck Travis​,​ but he has told friends he will not ​run for a third term​. He ran unopposed in November of 2015, only to be censured by all five members of the Town Board​.
​Here is Washam's press release:​
Cornelius, NC – Cornelius Mayor Pro-Tem Woody Washam announced this morning that he is officially a candidate for Mayor of Cornelius.
"It's been an honor to serve Cornelius, my hometown, as Mayor Pro-Tem for the last four years," Washam said upon announcing his candidacy. "After being asked and encouraged to run by many community and business leaders, I've now decided to step up and run for Mayor so our town will have the bold leader it deserves. As Mayor, my number one priority will be to serve as a strong voice for my fellow citizens, working and fighting to ensure Cornelius remains the town we all love for decades to come."
Washam also announced that he has received the endorsement of all four of his colleagues on the Town Board – Commissioners Jim Duke, Dave Gilroy, Dr. Mike Miltich, and Thurman Ross. Additionally, Washam has received the endorsement of State Senator Jeff Tarte, State Representative John Bradford, Huntersville Mayor John Aneralla, Huntersville Mayor Pro-Tem Danny Phillips, and Davidson Mayor Pro-Tem Beth Cashion as well as numerous business and community leaders.
"I am honored to receive all of these endorsements," Washam said "but I am especially honored and humbled to have received the endorsement and encouragement of my four colleagues on the Cornelius Town Commission. These gentlemen have worked very closely with me during my service on the board. We've stood together on many issues and we've disagreed on others, but, at the end of the day, we've always been united by a desire to do what is best for our town. It will be an honor to work with them as Mayor of our town."
Washam was elected to the Town Commission in 2013 coming in first in a field of ten candidates. His fellow commissioners unanimously selected Washam to serve as Mayor Pro-Tem. As Mayor Pro-Tem, Washam represents the Town of Cornelius on the Charlotte Regional Transportation Planning Organization, Lake Norman EDC, North Mecklenburg Alliance, Cornelius Arts and Community Center Board and the Arts and Sciences Council.
"I'm very proud of what we've accomplished on the Town Commission over my last two terms. We've maintained a fiscally sound and efficient town government, achieved an AAA Bond rating, passed a new Land Use Plan and are moving forward with the new Cornelius Arts Center," Washam continued. "Our tax rate remains by far the lowest in the region and one of the lowest in the state. We've accomplished much, but there is much more to be done. I believe with a strong Mayor who is focused on listening and responding to the concerns of our citizens and business community we can accomplish much more."
Washam, a native and life-long resident of Cornelius, has a 40-plus year record of serving our community as a local banker and in numerous civic and community leadership positions. In addition to his service as Mayor Pro-Tem, Washam is Senior Vice President, Lake Norman Area Executive for Carolina Trust Bank and Board Member of Little Smiles of NC, a charity benefiting North Carolina children who are in hospitals, hospices and shelters across the state. He also serves on the board of United Way of Central Carolinas-Mooresville/Lake Norman.
"As your Mayor, I will work with our Town Commission to ensure that we maintain an efficient and effective town government while preserving our low tax rate, and I will continue to fight on your behalf to stop the toll lanes and bring real transportation solutions to Cornelius. Most importantly, I will continue my popular listening circles and citizen meetings as well as our monthly Coffee Chats. By listening to our citizens and businesses and responding to their needs and concerns, we can ensure that our future remains bright and Cornelius remains one of the best places in our nation to live, work and raise a family."
Washam is married to Sharon Hobson Washam, father of two and the proud grandfather of five wonderful grandchildren. He has served as Chairman of the Lake Norman Chamber, Visit Lake Norman, and the Town of Cornelius Transportation Advisory Board. Washam is an active member of the Rotary Club of North Mecklenburg, and a Rotary Past President. He has served on the boards of numerous other civic and community service organizations. Washam is a lifetime member of Mt. Zion United Methodist Church where he has served as church organist since 1966.