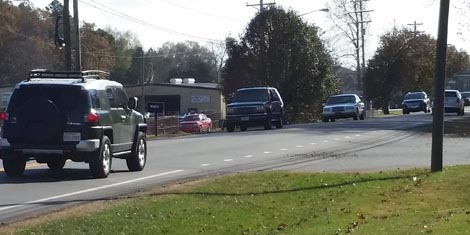 Dec. 10 It looks like the Phase II widening of West Catawba will cost far more than expected—increasing $17 million to more than $29 million. Meanwhile, it looks like the project could be delayed four years, until 2022.
Town staff will be presenting an update to the Town Board Monday night. Major road projects are ranked according to the State Transportation Improvement Program. It postpones the Catawba Avenue widening until 2022.
The cost increase, from $12.5 million to $29.1 million, surprised town commissioners who were gearing up for design issues around the widening project.
Wayne Herron, planning director for Cornelius, said the evolution of planning and timetables makes this a fluid situation.
The NCDOT is currently updating the environmental document for West Catawba, Phase II.  Part of this update includes revising the design and cost estimates.
"I'm speculating that NCDOT took some of this information to update the cost of the project.  Also, as the commencement of any project gets closer, more information is discovered, which usually triggers revisions to the cost estimate," Herron said.