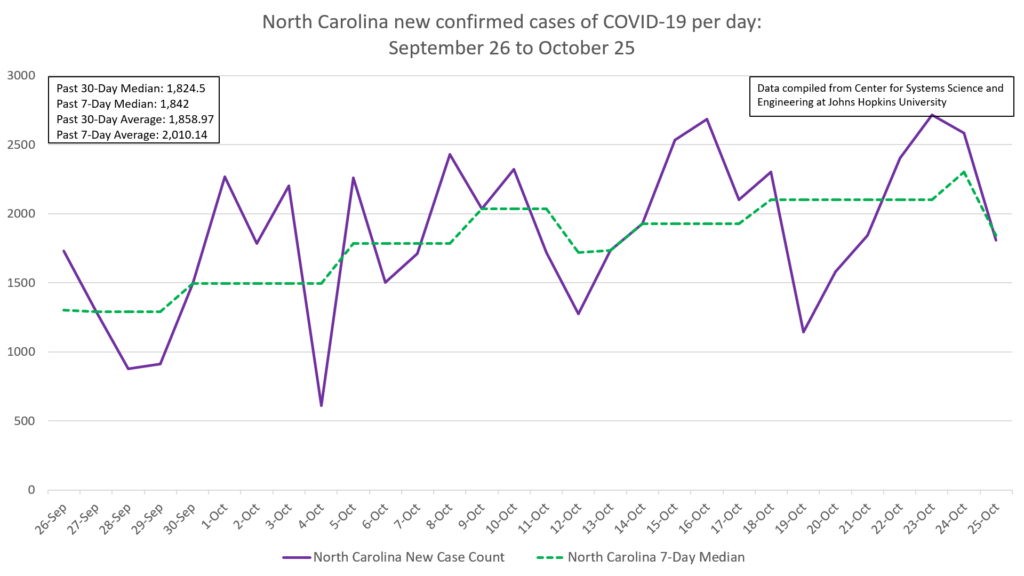 Oct. 25. The number of new COVID-19 cases statewide reported by the NC Dept. of Health and Human Services eased somewhat today to 1,643, down from 1,807 new cases yesterday and more than 2,400 on Thursday, Friday and Saturday of last week.
The median number of new cases over the past week is less than 1 percent ahead of the median over the past 30 days—a sign the sudden ramp-up in cases earlier this month may be ending. Back on Oct. 21, we reported the weekly/monthly differential in new case volume was more than 20 percent.
The total number of cases in North Carolina is now at 261,742.
Testing
Tests are coming back positive at the rate of 6.6 percent statewide, and 6 percent in Mecklenburg. The goal is less than 5 percent.
Deaths
There were 13 new deaths statewide due to COVID-19. A total of 4,170 North Carolinians have died because of the COVID-19 pandemic.
Hospitalizations
Hospitalizations are at 1,193 statewide, according to today's NCDHHS report.
Mecklenburg
There were 214 new cases reported in Mecklenburg, up from 188 new cases yesterday.
There was three new deaths in Mecklenburg in today's report, for a total of 384 county-wide.
North Mecklenburg
Cornelius: 4 new cases, 656 cumulative total; 16 deaths total.
Davidson: 1 new case, 6 cumulative cases total; 6 deaths total.
Huntersville: 1,212 cumulative cases total; 14 deaths total.