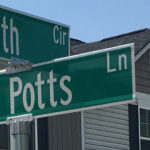 Augt. 26. A virtual ribbon-cutting ceremony will be held 10 am Thursday, August 27, to celebrate the opening of the new Nannie Potts Lane that connects Highway 21 to Smith Circle.
The program will go live on the town's Facebook page  and Instagram page (@TownofCornelius) at 10 am. 
The street was named after the town's first female and only African American mayor.