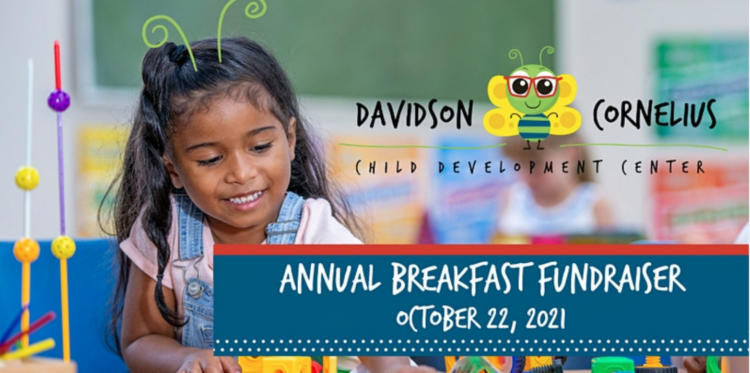 Oct. 18. The Davidson-Cornelius Child Development Center was founded in response to a tragic fire that claimed the lives of children whose mother had no access to daycare—she left them alone while she worked outside the home to support them.
Decades later the DCCDC is still helping working parents; it's a place of stability and comfort for kids in the midst of the pandemic—and fundraising is challenging.
Breakfast details
DCCDC has held an annual breakfast fundraiser that helps local families with scholarships, healthy meals, and a safe space for their children. In the last year, unexpected costs have arisen due to COVID-19 as we seek to protect our children and staff from this horrendous virus, according to Anna Eaton, executive director.
The breakfast fundraiser is cancelled again this year, but Eaton hopes to raise $125,000 with a virtual event Friday, Oct. 22 starting at 9 am.
Register online by Oct. 18 and DCCDC will drop off breakfast goodies in time for the online event.
To donate, click here.
Davidson-Cornelius Child Development Center
Since 1969, DCCDC has sought to provide high-quality, affordable early education and care for children without regard to race, ethnicity, religion, or socioeconomic status as well as foster diversity in a safe learning environment. Thirty- to 50 percent of DCCDC children receive sliding-scale scholarship support, ranging from 35 percent to 85 percent of the total tuition cost.