May 13. A shooting on North Ferry in the early morning hours Thursday had one person in the hospital. Corrnelius Police say on May 12 at approximately 6:15 am, they spoke with the victim, Jerron Grimbal, at Lake Norman Regional Hospital.
He said a known suspect shot him in the leg at 19810 North Ferry.
NEW: The suspect has been identified as Jonathan Davis, 37.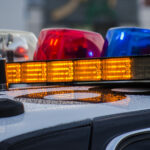 There was a large police presence on the scene Thursday morning.
Police said no other information was available.