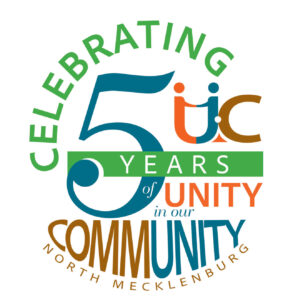 Jan. 17. While Unity in Community is looking forward to its fifth anniversary celebration, the group also took time to look at what was accomplished in 2022.
4 large group meetings: January's theme was  The Color of Law Study book study with guest speakers Staisha Hamilton and Joe Clifford
In April, the  first in-person/Zoom hybrid meeting with guest speakers Lisa Mayhew-Jones and Justin Miller of the Smithville Community Coalition Revitalization Plan.
July's theme was :Are We Losing Our Democracy? Guest speakers: Janice Robinson, Red, Wine and Blue; Sara Smith, North Carolinians Against Gun Violence, Tara Ewald, Democratic Precinct 127, and Timer Colen, UNCC senior.
In October, the them was Race and Identity: an Intergenerational Conversation with guest speaker Ridgely Chapman, founder and CEO of Global Minds United.
UiC book study: The Color of Law Study book study engaged UiC small groups and several community-based small groups to learn more about the history of local, state, and federal government sponsored segregation in housing.
Support of Smithville Revitalization Plan: In April, the group and supporters participated in Smithville Community Coalition's march and rally at Cornelius Town Hall. Spoke in support of awarding $6.8M in American Rescue Plan Act funding to the Smithville Community Coalition.
4 candidate forums: In June, UiC hosted a forum for the Latino community. Partnered with the Latino Community Engagement Committee and other Latino/Hispanic organizations.
In October, the group hosted three Racial Equity Candidate Forums. Partnered with local nonpartisan organizations.
Confederate Monument engagement: In January, the Confederate Monument Frequently Asked Questions document was created.
In August and September, the group took a resolution to town leaders to take down the Confederate monument in Cornelius. Several meetings were held with town commissioners.