On Sept. 11, Scouts from Troop 58 commemorated the 20 year anniversary of 9/11 by lowering the American flag to half staff.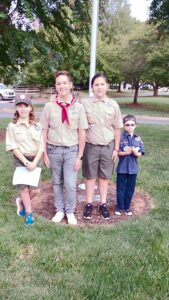 It was followed by the Pledge of Allegiance and a moment of silence.
Members of the Bordeaux community were in attendance to participate in the solemn remembrance.
Troop 58, which has been meeting at Fisher Farm Park in Davidson due to the pandemic, is sponsored by the Lion's Club.