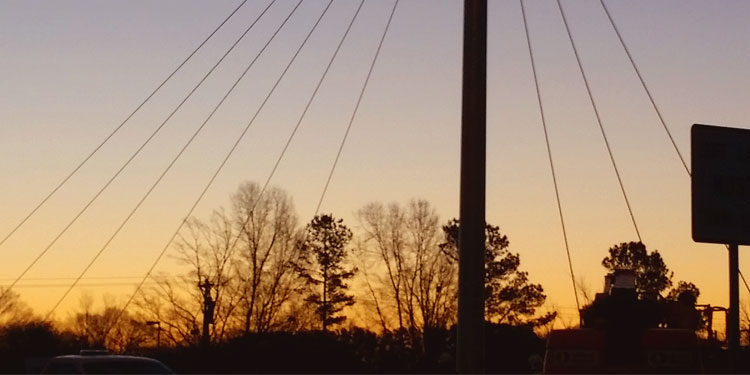 Dec. 29. By Dave Vieser. The Cornelius Transportation Advisory Board (TAB) has plans to review traffic on the Diverging Diamond Interchange (DDI) at Exit 28 after congestion in December caught the attention of the Town of Cornelius.
"The town has had several conversations with Rhythm Engineering over the last couple weeks," said Tyler Beardsley, assistant town manager. "They are fully aware of the congestion and have been monitoring traffic around the DDI."
The bridge, with its not-quite distinctive mast and sails, was conceived as a gateway that would help "brand" Cornelius as a lake town.
Major backups occurred on both the northbound and southbound exit ramps from I-77 as well as on Catawba Avenue.
Rhythm made some changes on Dec. 17 but by the next week traffic was backing up in all directions, including Torrence Chapel Road north to Knox Road.
Traffic volume
Beardsley said the main issue is volume, which was unusually high in December and the need for the bookend improvements.
"The signals can only do so much when volume is over capacity," he said.
Technically, the interchange is under the control of NCDOT, working with Rhythm Engineering's computer/camera driven traffic signal system.
The major design problem is that the distance between the I-77 ramps and the intersections of Hwy. 21 on the east and Torrence Chapel/Liverpool Parkway on the west is too short for an ideal DDI operation.
This causes traffic to bog down on both sides of the bridge as well as the northbound I 77 exit ramp.
This is expected to be solved permanently when the new roundabouts are built, which is currently scheduled in 2022.
However, the TAB will investigate to see if there is anything that can be done in the short term to reduce the congestion.
Meeting Jan. 5
The TAB January meeting will be a virtual meeting, to be held Tuesday Jan. 5, 2021, at 6 pm. To view the meeting, go to www.cornelius.org, then open the agenda list and connect to the zoom link next to the Transportation Advisory Board agenda