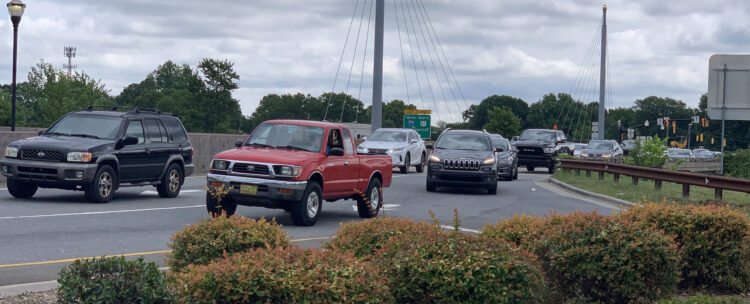 June 14. By Dave Vieser. Cornelius officials are asking the NC Dept. of Transportation to install "Do Not Block Intersection" signs on the Diverging Diamond Interchange (DDI) at Exit 28.
"I witness motorists blocking traffic there on a daily basis," said Commissioner Todd Sansbury. "Either people don't understand how the DDI works or they purposely just want to get through the light."
More signs
Assistant Town Manager Tyler Beardsley said he has been in contact with the NCDOT urging them to install the "Do Not Block Intersection" signs.
More traffic
Another contributing factor is an increase in traffic. "We've definitely seen an uptick in the volume on the DDI and 77, correlated to some extent with the reopening of offices in Charlotte," according to Police Chief Kevin Black.
It's especially an issue for northbound traffic exiting I-77 for westbound Catawba Avenue.
The issue also came up at the June meeting of the town's Transportation Advisory Board (TAB) meeting. Town officials pledged to redouble efforts to get the signs installed by NCDOT as soon as possible.