Dec. 22. The Cornelius Town Board has officially started the process of hiring six full-time firefighters by adopting a work agreement between the fire department and the full-timers. Following a study conducted over the past two years, the Town has determined that full-time firefighters are necessary to adequately provide fire and emergency medical services.
The first full-time firefighters may be hired as soon as February 2021, according to Town Manager Andrew Grant, explaining that an employment agreement was needed to get the process started. The agreement establishes guidelines for training, procedures for addressing employee performance, assignment of duties, and insurance.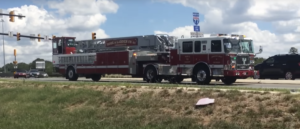 The Cornelius-Lemley Fire Dept. has 68 part-timers and 10 volunteers. The current town budget included $186,930 to initiate the transition from part-time to career firefighters. It will take years before the department is staffed with strictly career firefighters and, even then, there may be a place for part-timers, who work at paid departments like Charlotte, and volunteers.
In response to a question from Commissioner Tricia Sisson, Grant said the newly hired full-timers will be eligible to volunteer their services in other municipalities. When doing so, they will be covered by regulations of the other town or city.
Also at Monday's meeting:
—Announced the receipt of $72,000 in CARES funds from Mecklenburg County, used to purchase COVID relief items including Cleaning Equipment and Supplies and Personal Protective Equipment (PPE) for first responders.
—Received a report from Parks Department Director Troy Fitzsimmons indicating that department revenues are down approximately $70,000 compared to an average year. However event expenses are also down resulting in no loss to the town thus far in the current fiscal year. He also advised that CMS will not permit Bailey Middle School or JV Washam Elementary School Recreation Center to be used at this time: As a result, youth basketball has been postponed until spring 2021 and many adult recreation programs which moved outdoors during the fall, will need other location alternatives.
—Mayor Woody Washam asked commissioners to consider the format for the next
few board meetings. "With the COVID numbers rising, we need to show some leadership and determine whether we should continue to meet in person as we have been doing, or perhaps consider virtual meetings for a while." Town staff will also look into how public hearings can be handled should meetings revert to a virtual format.