March 29. The mayor, Board of Commissioners are holding a budget workshop on March 30-31 at the Graylyn International Conference Center in Winston-Salem.
The retreat, a special town board meeting that is open to the public, is a two-day work session where the mayor, members of the Board of Commissioners and key staffers take a deep dive into the details of municipal budgeting and goal-setting.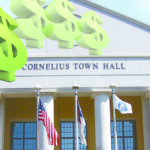 The workshop runs from 9 am to 5 pm on March 30 and from 9 am to noon March 31.