Dec. 8. By Dave Vieser. At their first meeting each December, the Town Board usually receives and reviews their final annual comprehensive fiscal report. However, this year, as with so many other issues, things are a bit different.
The Martin Starnes CPA firm in Hickory has completed the annual audit of the town's financial statements, with the report being submitted to the state Local Government Commission (LGC).
"We are anticipating approval in the short term from the LGC, but for now, this is just a draft," said Finance Director Julie Niswonger during the board's Dec. 7 meeting. Her staff will be available to discuss annual results in more detail during the upcoming budget process.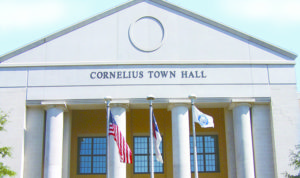 The report is a state requirement of all municipalities and must be submitted no later than six months past the end of the town's fiscal year.
Commissioners also approved their meeting schedule for 2021. The new 6 pm start time will remain in place for now.
The format for the meetings, which will be held at Town Hall, will continue to be conducted in compliance with ongoing state COVID-19 regulations.
Most meetings will be conducted on the first and third Monday of each month with three exceptions:
—Jan. 19 instead of Jan. 18 due to the Martin Luther King Holiday
—July 6 instead of July 5 due the Independence Day Holiday
—Sept. 7 instead of Sept. 6 due to the Labor Day holiday
Additional meetings are anticipated as the town begins the annual budget preparation period.