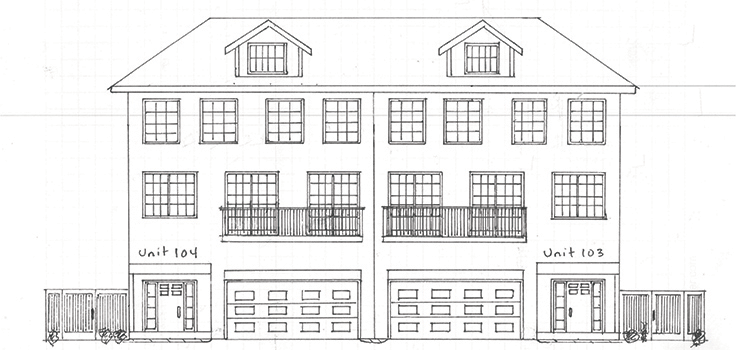 April 2. By Dave Vieser. The Cornelius Town Board has approved a rezoning ​plan f​or six luxury townhomes on a​ ​skinny strip of vacant land on Mulberry Street behind Food Lion. Investor Resource Management of Cornelius plans to build four townhomes on the south portion of the land, and two on the north, with open space in between.
The plan​, approved 5-0 at the Monday evening​ ​meeting​,​ represents a significant decrease in the density originally planned for this site.​ Back in 1997​ there was a plan which allowed for 11 units​, according to Town Planning Director Wayne Herron.
"However, that plan was never completed and the original permits have since expired. As a result, the zoning reverted to Town Center and does not allow townhomes in the proposed area​,' he said.
Investor Resource Management​ ​reduced the number of units to be built to six​; th​e new zoning will be conditional zoning.
Current plans call for the units to be three stories high with ​three or four bedrooms and ​at least two baths. Land preparation should begin within the next ​couple of months, according to David Knapp of Investor Resources, and actual townhome construction should begin in the fall.
Also on Monday:
Adopted a resolution supporting state legislation designed to continue studying multiple cases of Ocular Melanoma in the Lake Norman area. An unusually high number of such cases has generated increasing concern among families in the region.
Conducted the first of two public hearings on a request by Freedom House Church to rezone and occupy an existing 11,504 square foot building located at 20310 Sefton Park Road. The property is currently owned by Peak Properties and was most recently used as a gym.
Adopted a resolution authorizing support for the establishment of a state study committee on the distribution of voting power in Transportation and planning organizations. The current distribution heavily favors Charlotte over the surrounding towns in Mecklenburg County.
Approved two changes in the town personnel policy. The first will allow an employee to roll over excess vacation time into their sick time balance at years end.  The second will allow employees to donate up to 240 hours of leave time to another employee. The prior cap was 160 hours.