Jan. 15. The Cornelius Town Board's second January meeting will be held Tuesday Jan. 19 at 6 pm due to the Martin Luther King holiday on Monday. The Board of Commissioners will, for the first time, accept public comment on a fiscal year budget for the town before its submission to the Town Board.
Previously, public comment was only received after the document was released by the Town Manager.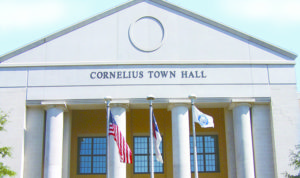 "This is consistent with the change we made a short while ago to provide the public whenever possible with an opportunity to provide their input twice on public hearing issues," said Commissioner Mike Miltich."In this manner any public recommendations or comments can be considered at the beginning of the review process, which is often more impactful, rather than just the end."
COVID-19
Due to ongoing coronavirus regulations, in person attendance at Tuesday's meeting will be limited. However, residents can email their comments to [email protected]. Those comments will be included in the minutes for the meeting.
Residents can also register to speak via Zoom by accessing the link on the town's website: www.cornelius.org. Participants wishing to speak via Zoom should plan to join the meeting at 5:30 pm for audio/video testing.
Also on the agenda for Tuesday is the first public hearing on a proposal by Bayard Simonini of Huntersville, to construct up to 180 single-family detached homes on 96.47 acres located adjacent to Mayes Road in the southeast portion of the town.
Tuesday's meeting will also be streamed live on the town website: www.cornelius.org. Click on Watch Meetings Online on the bottom left of the home page.