Jan. 3. The First Town Board meeting for 2023—starting at 6 tonight in Town Hall—was delayed by a day due to the New Years Day holiday on Monday.
The commissioners are expected to approve a number of property transfers and donations, which will be needed to begin construction on improvements at the Hickory Street/Main Street intersection, as well as the Northcross Drive extension.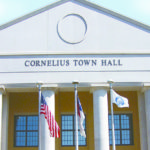 In addition, the growth management committee will discuss their recommendations for changes to the town land use plan.
There are no public hearings scheduled.
The meeting will be streamed via the town web site, www.Cornelius.org, click on "watch meetings online."