April 3. By Dave Vieser. For the first the first time ever, the Cornelius Town Board will conduct a regular bi-monthly meeting in a virtual format this Monday April 6 at 7 pm. The public will not be able to attend but can follow the meeting agenda by accessing the town web site: www.cornelius.org.
The agenda for Monday's meeting is extremely light with no public hearings scheduled. Perhaps the item of most interest will be the presentation of the proposed 2021 budget for Electricities, which provides power to about half of the town.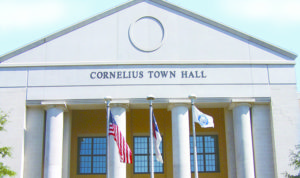 As previously reported in Cornelius Today, there has been a significant amount of deferred maintenance on the Electricities physical plant and a rate adjustment may be recommended.
While residents will not be permitted to attend, they can submit comments via email, again by accessing the town web site. Comments will be limited to three minutes.