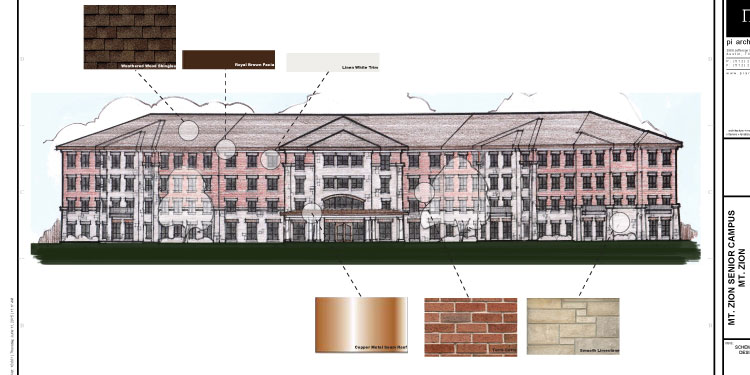 Aug. 6. By Dave Vieser. The Cornelius Town Board has unanimously approved a zoning change from Neighborhood Residential to Conditional Zoning requested by Mt. Zion United Methodist Church for a new senior campus on Zion Avenue. The campus master plan includes a 6,000 square foot Senior Ministry Center, 24 individual duplex and quadplex residential units, and a four-story independent living apartment building with 80 proposed units.
In a newsletter, Mt. Zion's Senior Pastor Dr. Mary John Dye described the town action as a "big bright day" for the church and the town.  "After years and years of work, prayer, careful attention to detail and heart-investment, Mt. Zion has turned a big corner in the development of our Senior Campus. It is a huge credit to the church leaders that the development plan for the Senior Campus passed unanimously. What a remarkable contribution this will make to the community."
The church will now begin the process of obtaining bids from developers. Ultimately, the building of the 24 quad/duplex homes and 80 unit apartment complex will provide the financial resources for building and operating the Senior Ministry Center.
The projects included in the zoning change will be adjacent to and complement the recently opened 102 bed Autumn Care Assisting Living Facility, which was built on land owned by the church.
The development along Zion Avenue, just east of Highway 115, is the outgrowth of a church vision plan developed over the past 10 years. It centered on how to best utilize its land, serve the community and enhance services to North Mecklenburg.