June 16. Cornelius-based TopDeck Foundation, whose purpose is supporting the morale and mission of Cornelius law enforcement officers, will present another dual-purpose motorcycle to the Cornelius Police Dept. at Monday's Town Board meeting.
The agile bike makes it easy for police to access paths and trails.
The new motorbike and helmets will be formally presented to the Town and the Police Department at the June 21 Board of Commissioners meeting.
Myriad of uses
"In addition to greenway access these bikes will also provide our officers the ability to efficiently respond to and check on areas currently not accessible by a patrol vehicle," said CPD Chief Kevin Black.
Think in terms of gas line rights of way and large tracts of land, like those east of Hwy. 115.
About 15 officers currently have motorcycle licenses and they will rotate usage of the dual-purpose bikes.
More approachable
Dual-purpose bikes make police more approachable, allowing them to interact in a new way.
"We have also had positive feedback from our trail and greenway users as they see us out on the paths," said Major David Baucom.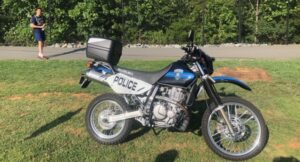 He outfitted the bike and the helmets with all the necessary communications equipment and safety equipment. "This vehicle gets a lot of reaction from our citizens," he said.
TopDeck
TopDeck, a registered 501(c)3, raised funds from the community and was able to purchase a second motorbike and deliver it in 2020, but due to COVID-19 restrictions the presentation was delayed until now, according to TopDeck co-founders Bridget and Don Rainey and Kim and Mark Sailors.
Background
TopDeck Foundation provides supplemental funds for programs and expenses that help support the morale and mission of the Police Department. TopDeck partners with Cornelius Police Chief Black to determine how best to leverage the generosity of the community. 
For more information email Info@LKNtopDeck.org or call Bridget Rainey at 703-283-8933 or visit the TopDeck website at www.lkntopdeck.org.