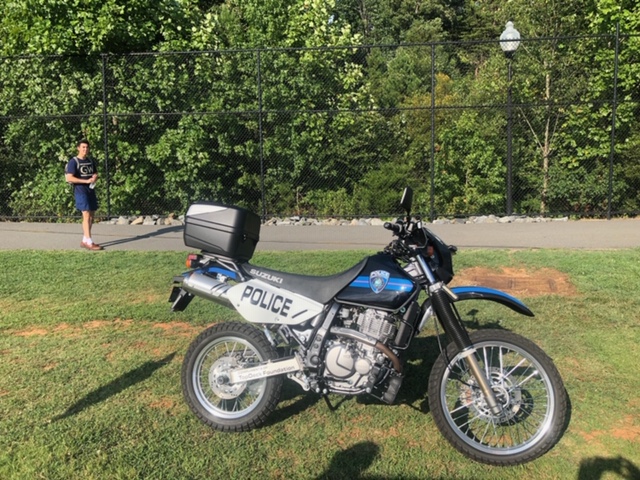 Aug. 12. The TopDeck Foundation, which supports the morale and mission of Cornelius law enforcement officers, is donating a dual-purpose motorcycle to the Cornelius Police Department.
The new vehicle will be used to access the many miles of paths and trails located in Cornelius, according to TopDeck founders Bridgett and Don Rainey.
Police will be able to access the paths and trails as well as the variety of terrains adjacent to them.
"It will be very useful for our officers who need to access the trails," said Police Chief Kevin Black. "In addition to Greenway access these bikes will also provide our officers the ability to efficiently respond to and check on areas currently not accessible by a patrol vehicle."
About 15 officers currently have motorcycle licenses. They say it gets a lot of reaction from citizens.
The new motorbike will be formally presented by TopDeck to the Town and the Police Department at the Aug. 19 Board of Commissioners meeting.
TopDeck Foundation was formed to generate supplemental funds for programs and expenses that help support the morale and mission of the Police Department.
"TopDeck continues to raise funds for items not covered in the town's annual budget. We are pleased to be able to purchase this specialty vehicle for our town and we are planning to raise funds to purchase a second one as well as some helmets for the officers driving it," said Don Rainey, co-founder of TopDeck.
For more information email Info@LKNtopDeck.org or call Bridget Rainey at 703-283-8933.  The TopDeck website is at www.lkntopdeck.org.