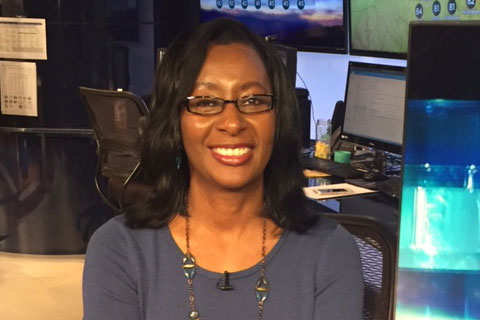 Tonya Rivens is one of the most well-known products of Smithville and Cornelius. The former on-air traffic reporter for WBT-TV also gives back to the community through the Ausie Rivens Scholarship Foundation.
She has a degree in journalism from the University of North Carolina Chapel Hill, and recently received Charlotte Mecklenburg Police Citizens Award, as well as the Charlotte Mecklenburg NAACP Gospel Image award.
Rivens also hosts a gospel music show on 103.3 FM (Sundays 6 a.m. to 10 a.m.) and is an Associate Chaplain with the Mecklenburg County Sheriff Department.
In honor of Black History Month in February, we asked Rivens a few questions about her career and how she got where she is today.
Who was your most important teacher? Why?
Hansel Harry at Alexander Jr High. Mrs. Harry encouraged me to dream big and to believe in myself. The Rivens family is large. My Mom's one of 12 children. Most of us live in North Mecklenburg and attended Alexander and North Meck.  All of the guys in my family are known as athletes.  Mrs. Harry once told me how she admired how "the men were excelling in sports and how the women were excelling in academics." She was creative when presenting lessons and was not afraid to teach outside the box. Mrs. Harry lived on the lake, a few houses down from my Uncle. Cornelius was a lot smaller and everyone knew their neighbors.
First job ever?
As a rising 12th-grader, my Mom made me get a job at Reeves Brothers, a local textile company, now known as Foamex, which sits at corner of Hwy. 115 and Bailey Road. Her goal was to show me that if I did not pursue higher education and attend college, I would end up working in a textile mill. The job was third shift and I got fired after about two weeks.
Most important advice to young women?
Make education a priority, work hard—it pays off, have fun, respect others and always help those who are less fortunate.
Your mentor?
Wayne K. Brown, general manager at Power 98/ V101.9 Radio recruited me from the ticket counter of Piedmont Airlines.  Offered me the opportunity to work as an intern, said he admired my work ethic, then gave me a job.  Continued to give me advice on the business of radio.
You've been in radio for 16 years, five years at WBTV, what advice do you have for young people who want to break into broadcasting or a professional career?
Find a good mentor and believe in yourself.  Upon graduating from UNC-CH, I had a television job offer in Wilmington, but I wasn't prepared to move away from my family.
What do you like about your career?
I enjoy being able to inspire others, work in the community and show how trusting God can bless you tremendously.