Oct. 16. By Dave Vieser. Political signs posted along West Catawba Avenue within a foot or less of the curb violate state law, but because the town hasn't completed the changeover of its local law to match the state's, the signs will likely remain through Election Day.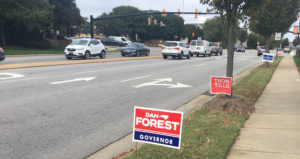 "We are proposing to amend the text of the town ordinance to prohibit signs closer than 3' from the edge of pavement, which should help with these issues," said Town Planning Director Aaron Tucker.
Both major political parties have signs close to the road.
The new signage rules have already been unanimously approved by the town's Planning Board and just awaits Town Board OK. However, Town officials have no plans to request that the signs be moved at this time.
The three feet of separation is a safety issue: The signs could be a distraction to motorists and might also block full visibility near intersections.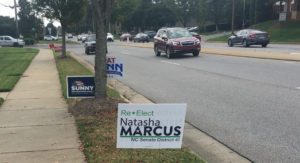 It's all part of the visual overload this political season.
"Political signs are an eyesore, but not nearly as bad as political ads which are insulting. We've lived with this annual ritual for decades. My only issue is not where the signs go, but how many signs glom up the byways," said Cornelius Town Commissioner Jim Duke.