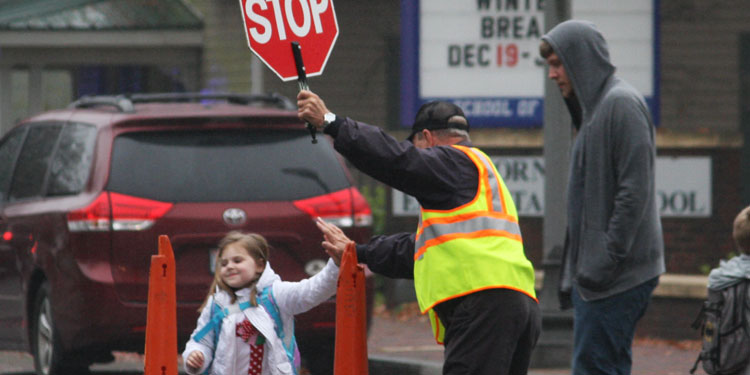 By Dave Vieser. No one can accuse 74-year-old Alan Eakin of leading a dull life. The retired architect, musician and still-active Southern Baptist minister is also the friendly gentleman directing traffic school days at the Cornelius Elementary School crosswalk on Catawba Avenue.
He took over the post this fall after the former crossing guard, Robert Jarosz, returned to Pennsylvania to be closer to his daughter. Last year Jarosz was struck by a car at the Cornelius Elementary crossing but suffered no permanent injuries.
Eakin relishes his job. "I really enjoy talking with the students and their parents. I also feel that doing this is a meaningful way I can give something back to the community."
Eakin and his wife Laddy, who is from Venezuela, have four children, four grandchildren and two great grandchildren. They moved from Northern California to the Caldwell Station in 2008 "to be closer to the kids." Prior to the move, he had successful 44-year career as an architect on the West Coast.
The biggest problem he faces on the job? "Speeding motorists, and also pedestrians who try to cross without using the crosswalk." He also said it's a challenge to safely guide the children across the street when trucks are stopped at the crossing because they limit visibility.
Eakin has every intention of staying with the job "for the long haul." It's not for the money—the job pays $15 an hour—but rather "to stay busy, alert and active."