Nov. 10. By Tonya Rivens. When Gabby Petito went missing, it brought back memories of a local incident that old-timers in Charlotte, Cornelius and Davidson still remember. Unlike Gabby, Earthell Latta and her sister survived.
In 1971, they were kidnapped from Charlotte's Druid Hills community by a traveling evangelist.
They were 7 and 9 at the time.
The evangelist was influenced by Charles Manuel "Sweet Daddy" Grace, founder of the United House of Prayer for all People, and Frederick J. Eikerenkoetter II, better known as Rev. Ike, a popular evangelist who used television and radio to request cash donations in exchange for spiritual inspiration.
The African American church and its leaders have always played a major role in the Black community.  So, Earthell's mother felt comfortable allowing them to join the female evangelist for a vacation trip to the beach.
The two-week vacation turned into five months of praying camps, revivals, readings and prophesying services throughout the Carolinas, Georgia and Florida.
The girls were required to stand at the altar, singing and swaying when she got up to pray. They also assisted with collecting offerings.
The newly released novel, "Salvation," by Avery Caswell, is based on the true story of the 1971 kidnapping. Caswell, by the way, is the pen name of Davidson resident Leslie Rindoks, who wrote "A Town By Any Other Name: A History of Cornelius" in 2005 for the centennial of Cornelius.
Barnes & Noble calls it "an evocative and unforgettable saga about stolen innocence that explores the tragic mistakes made by desperate people and the false prophets who exploit their vulnerabilities."
Druid Hills, of course, is a real neighborhood in Charlotte.
• Here's an excerpt from Caswell's book:
"Residents considered it every bit as fine as Myers Park, Charlotte's richest neighborhood. Many of Del's neighbors were veterans of the Second World War, living their version of the American Dream. On Saturday mornings, they woke up to cut the grass and wash their Delta 88s and Chrysler Imperials. On Sundays, they took their families to church."
—Salvation
• Churches were at the center of Black communities:
"St. Luke's was a stop for itinerant preachers during the summer; one of their regular visitors was Mother Franklin who held praying camps a couple weeks at a time in cities across the South. God's truth, food had piled sky high… The ladies in the church had cooked up a storm, each one trying to outdo the others."
—Salvation
When the girls failed to return, members of the community started asking questions.
After the girls were rescued, the family moved to Davidson, where Earthell's mom became the first black female officer employed by the police department.
And in spite of the negative experience with "a false prophet," Earthell respects religious institutions.  "My views on religion have not been impacted in a negative manner," she says.
"My mom, family members in Davidson, the Druid Hills community, and the members of St. Luke Missionary Baptist Church are responsible for rescuing us," Earthell says.
The story has a happy ending, but she hasn't forgotten.
"I never let my kids spend the night at someone else's place," she says.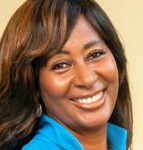 Tonya Rivens is a multi-skilled journalist and is currently heard on Streetz 103.3/100.5 FM, blogs at tonyarivens.com.