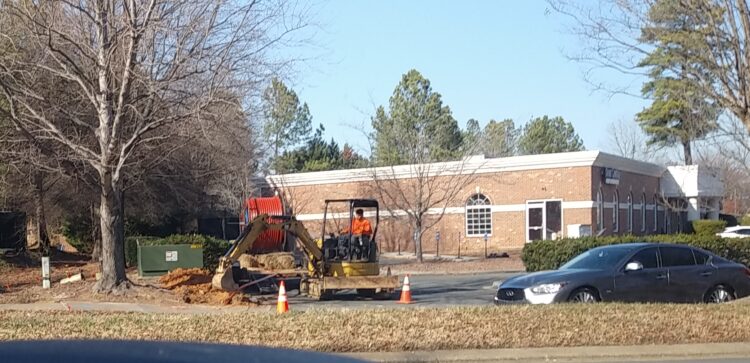 Jan. 31. By Dave Vieser. Charter Communications, owner of Spectrum, will be installing 130 miles of underground cable in Cornelius during 2022. When the installation is complete, Spectrum will be able to serve more than 8,400 homes and small businesses in the town.
Town officials are hopeful the expansion will go smoother than their recent cable work in the Westmoreland Road area.
"Thats been a struggle," said Assistant Town Manager Tyler Beardsley. "They really didn't do a good job, hitting a lot of water lines and telecom services. However, we recently met with them and emphasized that they must do better."
Spectrum pledges to do better
Spectrum spokesman Pat Paterno agreed, saying they encouraged the discussion at the town board meeting.
"Spectrum is planning to reach out to Cornelius residents in a number of different ways to keep them informed about our plans, including door tags, and email communications," Paterno said.
Town commissioners also urged Spectrum to keep in touch with area HOA and community organizations so they too can keep residents informed.
Cable lines are usually installed by independent contractors who are hired by companies like Spectrum and TDS. Some problems have surfaced in the past due to improperly marked underground lines as well as language barriers with installers, according to town officials.
Cable/communication services in Cornelius
The 130 mile project is one of, if not, the largest in recent history according to Town Manager Andrew Grant.
Cornelius is primarily served by Spectrum, as well as TDS Communication (formerly Mi-Connection), and AT&T uverse.
However, not all sections of the town are currently served by Spectrum and with hundreds of new residential approved, the company is obviously preparing for future business.
Specifics hard to pin down
"We continually look for opportunities to extend our services to additional homes and businesses but for competitive reasons, we don't have information to share regarding specific subscriber locations," Paterno said.
Suffice it to say, when the 130-mile installation is complete, portions of the town which don't have access to Spectrum will be able to connect. New lines have also been installed in portions of the town by both TDS and AT&T but not to the extent of Spectrum's planned expansion. Residents and businesses can also access TV and communication needs via satellite providers such as Direct TV.
Municipalities have limited control
The announcement about Spectrum's expansion plan raised a number of questions from the town board on what control local municipalities have over utilities such as Spectrum.
The answer: Not much.
"All the utilities in the state have a statutory right to work in our right of way," said Grant. "We don't have the right to say 'no,' so what we are left with is to urge cooperation and communication which is what we are doing."