Rural Hill  will host its Amazing Maize Maze starting Sept. 11 with advance ticket purchase and masks required.
You will navigate—or get lost in—seven acres of corn. The activity lends itself  to socially-distanced, outdoor, family friendly fun.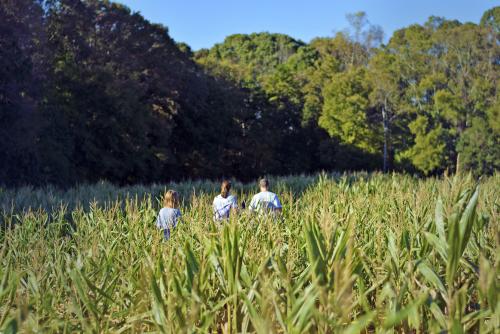 The corn maze will be open weekends starting Sept.11, weekdays starting Sept.14. The maze will be open until Nov. 7.
Night maze events  start in October. Rural Hill is located at 4431 Neck Road, Huntersville.
A mask is required to enter the maze. Advance ticket purchase required. Weekend tickets, $9-$17.  Weekday tickets, $9-$12.
Quest is open too
Quest at Latta Nature Preserve  in Huntersville will open seven days a week starting Labor Day. 
Quest serves as the gateway to the 1,460 acres of Latta Nature Preserve and is the source for educational programs and information on the preserve's natural communities, flora, and fauna.
Quest is a joint facility of Mecklenburg County Park and Recreation and the Carolina Raptor Center. It features live, native animals, a 3000 square foot interactive exhibit hall including a 6000-gallon aquarium, classrooms, conference rooms, rentable space and the Raptor Center's Gift shop.
The Raptor Center is in the process of building their new Raptor Trail and will be moving their birds once it's complete.