Nov. 21. Look for more sun and slightly warmer temps on Thanksgiving.
The National Weather Service is calling for highs in the low 60s on both Wednesday and Thanksgiving Day, no rain in sight until it's time to ponder leftovers Thursday night.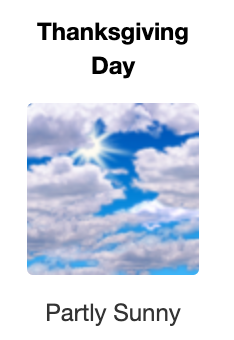 In short, a perfect T-Day, with a 40 percent chance of rain Friday, high 54.
If you are traveling anywhere in the US for the holiday, check the weather by clicking here.