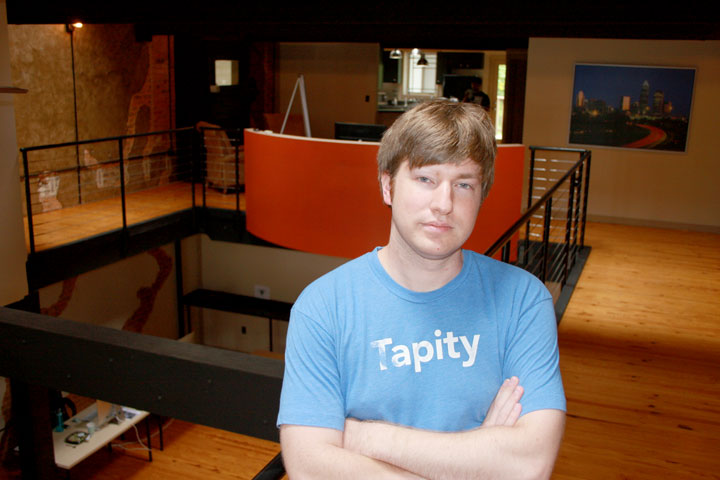 By Dave Yochum. A nationally recognized app design studio has moved into 3,500 square feet of space in a historic brick building in downtown Cornelius. Tapity—a word play on 'tap into the possibility'—has six full-time employees and between three and five part-timers working at any given time, says founder Jeremy Olson.
He is the lead designer at Tapity, which he started in 2009 while still a student at UNC-Charlotte. He incorporated in 2011, and rather than graduate from UNCC, opted to dive full-time into the fast-growing field of developing applications for smartphones and tablet computers.
"The business took over my life and I had to choose between them, I chose to keep doing the business instead of graduating in 2012," Olson said.
"Build a habit of sharing. When you share about the things you are thinking about — whether that is by starting a blog related to your field or simply presenting ideas at local events — you are forced to form more solid opinions, get sharpened by others, and for us a valuable side effect was that we built a brand that is known as a leader in the industry we are in."

—Jeremy Olson
One of the apps Tapity developed, Hours, helps freelancers and sub-contractors keep track of their billable hours while on the go. Forbes magazine says it is the "perfect iPhone time tracking app."
Hours was recently sold for an undisclosed amount.
Olson won't disclose corporate revenue either, but Tapity apps have won multiple awards from Apple and have each been featured prominently on the App Store homepage.
"All of our apps have at certain points in their lifetime been the No. 1 app in their category and have also gone up to No. 5 on the App Store overall," Olson says. That's no small accomplishment in the world of mobile phone and tablet apps where "Angry Birds" is a high-flyer on Amazon.
Most apps are sold with several apps bundled as pre-installed software.
Tapity's business is 70 percent mobile apps. "We have worked on web apps, desktop apps, Apple Watch apps, and we have even helped design a POS system," Olson says.
"Grades" is Tapity's Apple Design Award-winning app that helps students better achieve their target grades, among other useful things for class. As of last fall, it had $45,950 in gross revenue.
"Languages" is Tapity's completely off-line language translation app, suitable for travel in areas with expensive or limited internet access. As of last fall, it had $428,268 in gross revenue.
Grades was the first app Olson built. "It put us on the map," Olson says, explaining that the app is essentially free for right now. Languages sells for $2.99.
"We are actually in a big transition period since we were so heavily focused on Hours and that just recently sold," says Olson, who moved Tapity out of 3,000 square feet of space in Birkdale Village.
Right now he is looking to work on either a few smaller app projects or one or two bigger projects.
"There are several opportunities we are evaluating but we are always especially interested in local companies and startups that we can work with," Olson says.
His father, Todd Olson, is CEO of Tapity. Young Olson credits his dad, an experienced business executive and attorney before coming on board with Tapity five years ago, for fostering his entrepreneurial spirit.