April 7. An amazing Lake Norman tradition—the Charlotte Symphony performance at the Energy Explorium—has been cancelled for a second year due to the coronavirus epidemic, according to sources.
In the past, thousands of people brought a picnic and a blanket to the annual event, some coming by land, some by the Inland Sea.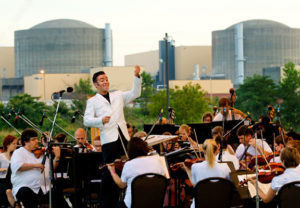 McGuire Nuclear Station hosted several community events pre-COVID, but the symphony was the largest.
Bailey Road Park June 19 
Meanwhile, the equally popular Symphony in the Park at Bailey Road Park is a go for June 19—with social distancing, pre-registration and a smaller crowd.
The event is organized by the Cornelius PARC Dept. every year.
We'll have more information as soon as it's available.