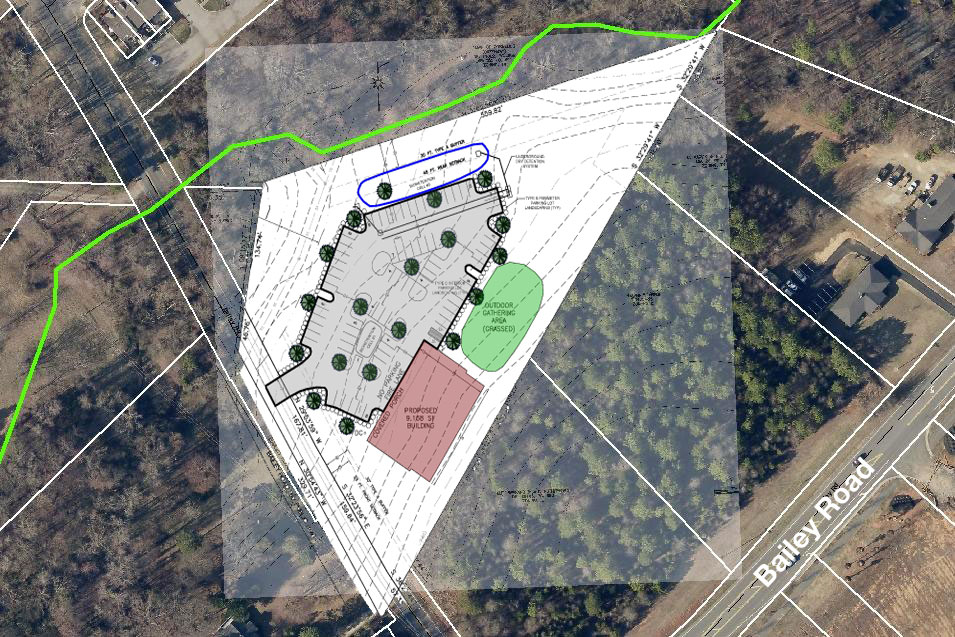 July 18. If you've ever had trouble finding a place in Cornelius for a big event like a wedding, the Rathman family has an idea. They plan to build a 9,000 square-foot event facility near the big curve on Bailey Road.
Magnolia Estates residents Stefan and Kerry Rathman are planning a single-story building featuring a barn style exterior on a 3.25 acre parcel. The total investment is on the order of $2 million, said Kerry Rathman.
They plan to host weddings, corporate events and family celebrations. The Cornelius Board of Commissioners is being asked to change the zoning at tonight's commission meeting. The Sweet Magnolia Estate building will also feature prep kitchen, separate bride and groom suites with restrooms, and a large covered veranda.
The property is just past the Oakhurst neighborhood, near where Bailey Road will be realigned to connect directly to Statesville Road or Hwy. 21.
Stefan Rathman is the owner of Rathman Construction. Kerry said their two children will involved in the new business as well as her mother.
The idea came out of two weddings in the family and finding an appropriate venue. Kerry Rathman said Sweet Magnolia will allow independent caterers on site, a flexible approach that's hard to find at many venues.
The Rathmans have lived in Magnolia Estates since they moved here from Canada more than two decades ago. Stefan built five of the homes in the neighborhood, and the Rathmans have lived in two of them.
"We're super excited, we're over the moon right now," Kerry Rathman said, explaining that they hope to break ground in the next 30 days. "Brides are already interested," she added.
The proposed building will be located at the southeast corner of the site, which is where an old house was formerly located. A new driveway entrance is proposed off Bailey Road at the north side of the property, which will lead to an 80 car parking area.
The project received unanimous approval from the town Planning Board at their June 13 meeting.
Also at tonight's meeting, commissioners will recognize two Cornelius Police Officers who are retiring in August. Captain Jeff Ramsey will retire Aug. 1, after 25 years of service. Officer Tim Ramsey will retire the same day, after 31 years of part-time service.
The meeting begins at 7pm in the Town Board Meeting Room at Town Hall on Catawba Avenue.