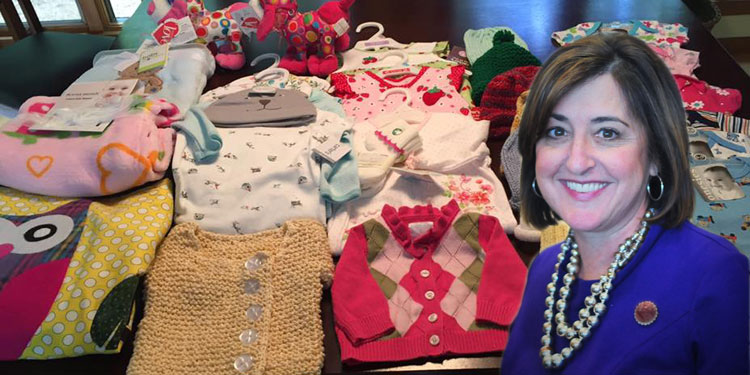 May 17. Susan Tillis is hosting the Fort Bragg Armed Services Baby Bundle Shower on Thursday evening at Cornelius Town Hall. Her husband, Thom, a former Cornelius Town Commissioner and NC Speaker of the House, is a US Senator from North Carolina in his first term.
Anyone can contribute baby items by bringing them directly to the shower. Volunteers will bundle them and deliver them to new mothers in the military community, Tillis said. The event gets under way at 6 pm and runs to 7:30 pm. Dinner will be served.
Military moms who give birth while their husbands are deployed often have no family nearby. Tillis, who now lives in Huntersville with her husband when they are not in Washington, stepped in to help in a big way.
Last year Tillis visited Fort Bragg Armed Services YMCA to learn more about programs and events for our military community, especially junior enlisted. It was during this tour that she learned about the Baby Bundle Program, a free service that was started as joint effort between Womack Army Medical Hospital and the Armed Services YMCA.
Many new moms were unprepared. The bundles contain at least a new outfit, baby wipes, receiving blanket, hygiene product for baby, baby rattle, shampoo and conditioner for mom, nursing pads and a voucher for newborn diapers.
"This program was a wonderful way for the ASYMCA to show support for our Military Junior Enlisted. Several of whom are between 18 to 22 years old, new parents, and often deployed to the front lines in heavy combat zones," Tillis said.
Donations needed: onesies, diapers, baby blankets, wipes, hats, mitts,etc. For more information or to donate online, http://www.asymca.org/fort-bragg-nc/programs/baby-bundles
Last year, the first annual Baby Bundles Shower provided almost 1500 Baby Bundles to new moms.