Sept. 21: The NC Division of Mitigation Services is partnering with the Town of Davidson to develop the unnamed tributaries to West Branch Rocky River Mitigation Site, located in Fisher Farm Park. 
This project will begins today and should take four months to complete. 
 Several sections of existing project channel are significantly degraded with poor water quality and aquatic habitat. Establishing native forested natural communities will help protect water quality, improve aquatic and terrestrial habitat, and provide a better corridor for birds and wildlife.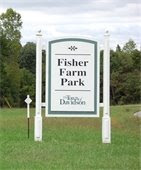 Bike trails are not expected to impact the stream project and will remain in most locations where they currently exist. Most of the single-track mountain bike trails throughout the park will remain open, but some pathways will need to be rerouted to avoid active construction areas. 
For public safety, areas along the stream and construction routes will be bordered with orange safety fence; however, the entire greenway and park to the east of the project area will remain open.
 The project will enhance or restore approximately 4,000 linear feet of streams; three culverts will also be replaced as part of the project to accommodate the new stream and its alignment. Native woody trees including dogwood, oaks, poplars, alders and river birch will be planted within the project area, and invasive vegetation will be removed.
 A permanent conservation easement for the project has been recorded to protect the project area in perpetuity. A local mountain bike club maintains approximately 5.2 miles of single-track mountain bike trails throughout Fisher Farm Park, and some trails exist within the conservation easement per the conservation easement allowance.