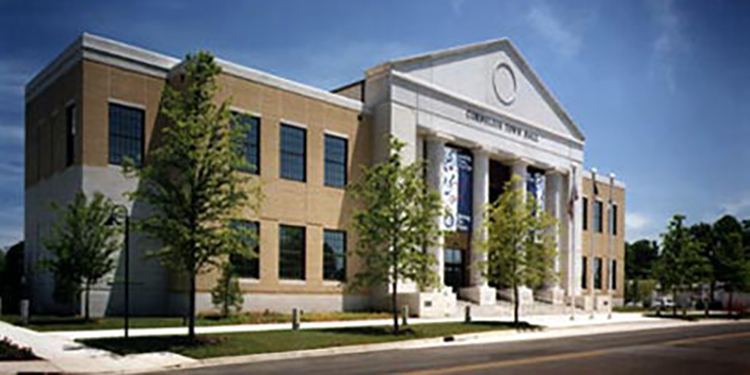 April 20. By Dave Vieser. Stormwater fees for many Cornelius property owners will increase July 1 pursuant to a new rate structure adopted by the Town Board at their April 19 meeting. Assistant Town Manager Tyler Beardsley said the change is required because Mecklenburg County fees are expected to increase significantly during the next five years.
"We use these Stormwater funds for maintenance of the stormwater system which includes drainage pipes and ditches that carry public water as well as larger stream restoration projects like the current Willow Pond Restoration," said Beardsley.
Owners pay the charges as part of their monthly water bills from Charlotte Water. The Town also uses these funds to do leaf collection each fall.
Lakefront credit
Who gets a break? Homeowners who live on the lake.
They will get a stormwater fee credit and not be billed since those properties drain directly into the lake and not into the stormwater network.
Beardsley says the current residential rates, which date back to 1994, needed to be updated because they didn't provide fair charges for all homeowners. "This new system has four rate tiers depending upon the size of the property, so that each owner pays an equitable rate."
The new proposed monthly rate for Cornelius property owners is as follows:
Tier I (less than 1999 sq. ft.) $1.54 ($0.12 increase)
Tier II (2000-2999 sq. ft.) $2.23 ($0.11 increase)
Tier III (3000-4999 sq. ft.) $3.35 ($1.23 increase)
Tier IV (over 5000 sq. ft.) $6.19 ($3.49 increase)
Commercial (per acre of impervious) $39.64
New rates are subject to final approval by the county.
Other actions at the April 19 meeting
—The commissioners unanimously approved the requested conditional rezoning for Lake Norman Chrysler Dodge Jeep Ram on Chartown Drive south of Life Fellowship Church. Jack and Robin Salzman plan to build and operate an auto, boat, RV, motorcycle, and truck sales facility at this site. Their existing facility located north of Catawba Avenue will transition into a pre-owned dealership.
—Ratified a $1.12 million contract with Blythe Development to cover the repair and regrading of Old Canal Street and the adjacent slope. Work is expected to commence in June, with completion by early next year.
—Concurred with a resolution opposing proposed state legislation which would remove some of the options available to local towns with regard to zoning and housing. A copy will be transmitted to NC Sen. Natahsa Marcus and NC Rep. John Bradford, neither of whom sponsored the bill.