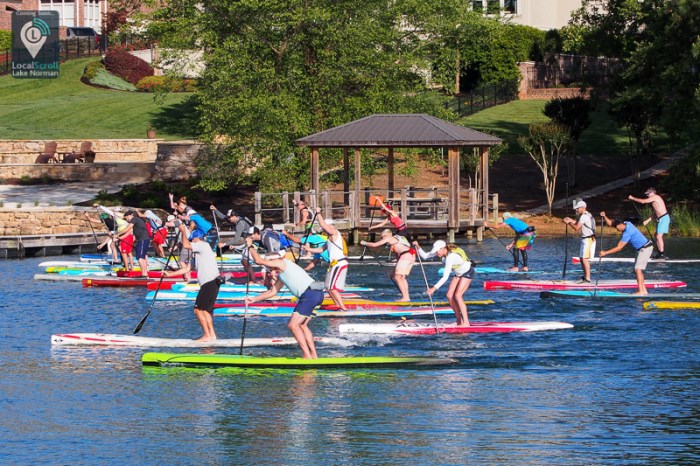 Paddleboard entrepreneur Rob Bennett will hold the 7th Annual Stand Up Paddle Board Race and fundraiser May 5 at Port City Club in Cornelius. My Aloha Paddle & Surf, in partnership with Charlotte Cycleboats and the Southern Stoke Series, will host the event which will benefit six local charities and one International foundation.
The events on Saturday morning will feature Elite (6.2 Miles) and Recreational (2+miles) races, kid's races, and open class, which includes kayaks, Surfskis, OCs, etc. All races are open to the public with some prior Paddle craft experience. Limited paddleboard rentals will be available on a first-reserve basis.
"It is very exciting to see our local paddlers and the community participating to contribute to these important charities," said Bennett, event director and owner of My Aloha Paddle and Surf. He was the Lake Norman Chamber's Entrepreneur of the Year last year.
Nathan Champion and Daniel Ancheta will be the local race directors for this growing tradition in Charlotte.
"We are extremely excited to partner with the Southern Stoke series," said Champion.
Bennett said paddleboard races are special because they "allow us to help others, have fun and introduce more people to the sport.
This fundraising event will begin Saturday morning with racers checking starting at 7 am. There will be a Silent Auction starting at 7:30 am with the Elite and Recreational races to follow. The races will continue from 8 am to 10:45 am followed by the live auction at 11 am. The awards ceremony will begin at 11:15 am and will be followed by a luau lunch provided by Port City Club, which continues to be the key supporter of this event and featuring the Island Hula Girls along with island music, food and activities for all ages.
To learn more about sponsoring or volunteering, email rob@alohapaddlesports.com  All event proceeds will benefit charities throughout 2018 and 2019, including Big Day at the Lake, Peninsula Community Foundation, Pat's Place, Young Elites, Surfrider Foundation, Ignite and a new International charity, SmileTrain.
To register, visit: https://paddleguru.com/races/paddle4purpose
Facebook Page: https://www.facebook.com/paddle4purpose18