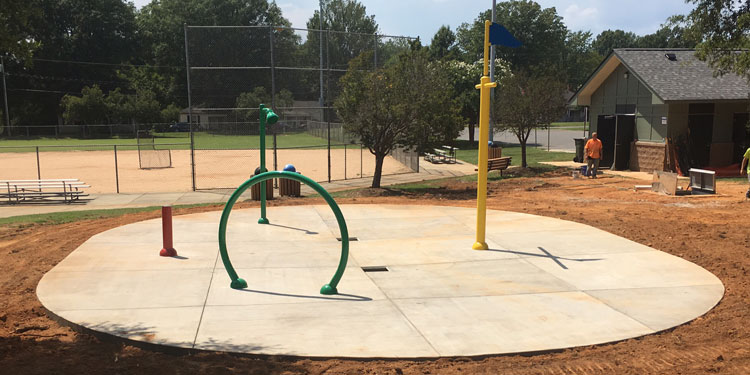 UPDATE July 30. The Lake Norman Kiwanis is now only $10,000 away from its $150,000 goal to fund a new Splash Pad at Smithville Park. The splash pad itself is nearly complete and should be open in time for the Jazz Festival Aug. 20. "Much of the credit for the Splash Pad goes to Huntersville Mayor John Anarella and the Kiwanis Club who help raise the nearly $150,000 needed for the project," Town Commissioner Jim Duke said in his newsletter.
Aneralla, the Kiwanis member leading the splash pad effort, said $100,000 has already been given to the Town of Cornelius. "There is $20,000 in the bank between the Cornelius Cultural Arts Group and Kiwanis to be given to the town at the grand opening, and there is a $10,000 Kiwanis pledge due next year, which will fulfill our $30,000 club commitment," said Aneralla.  There is another $5,000 in pledges, including money that is expected to be raised from the Jazz Festival.
Another $5,000 came in Friday. To donate, mail checks to Kiwanis Smithville Project, PO Box 2543, Cornelius 28031. For more information about the project email janeralla@bellsouth.net
Aneralla said the main concrete pad has been poured and the water features are in place. Benches and picnic tables are on track to be assembled soon. The finishing touches are fine-grading the site and installing Bermuda sod, followed by final tests and the county inspection.
The town is scheduling the Grand Opening of Splashville for Aug. 20, Aneralla said,  "if all permits are complete, which should be in the next week or so."