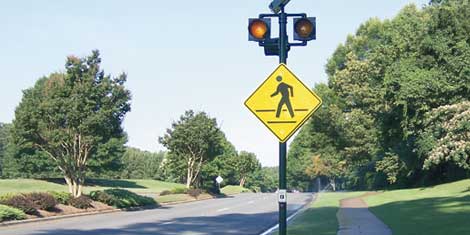 By Dave Vieser. The speed limit on a portion of Jetton Road in Cornelius could be reduced later this year, according to several key town commissioners. The speed limit is currently 45 miles per hour from West Catawba Avenue to Peninsula Club Drive, and 35 mph from Peninsula Club to the west.
The state will be completely resurfacing the road in the spring, after which the town will take over full maintenance responsibility.
"Once Jetton is re-paved and is taken over by the town upon inspection, the town board can make a decision on the speed limit," said Mayor Pro-Tem Woody Washam. "I personally would consider the reduction to a 35 mph speed limit based on what I have observed."
Commissioner Dave Gilroy concurred. "Yes, I'm generally in favor," he said when asked if limits on roads such as Jetton should line up with the town-wide 35 mph limit. Commissioner Jim Duke, the former head of the Peninsula Property Owners Association, said he's in favor of a lower speed in light of safety concerns.
The commissioners aren't the only local officials who have concerns over the speed limit. State Sen. Jeff Tarte had serious concerns about the 35 mph town wide limit when he was Mayor. "I will go on record as stating I believe that is too fast for our residential neighborhoods and safety of our children," he said in an email dated July 9, 2010.
\While the town will gain control over the Jetton Road speed limit, that's not the case with other major roads in town, including Bethel Church Road and Torrence Chapel Road. Bethel Church carries speed limits of both 45 and 35 mph in different segments.
Those roads are currently maintained by the State DOT and while the town can request a change, the final decision must be approved by the DOT. Del Arrandale, PARC Commission Chairman, served on the town's transportation advisory board when lowering some speed limits in town were recommended. "The DOT explained to us that lowering the speed limit on a road designed for higher speeds poses other safety issues," he said.
Still, the road is used as a recreational amenity with cyclists and pedestrians looking for a safe place to exercise even as some drivers travel through crosswalks and intersections at speeds well in excess of 45 mph.
It is possible that the town could eventually wind up with full responsibility for both Bethel Church and Torrence Chapel Roads too. In that case, any decisions on changing the speed limits would be a town board prerogative and not require state approval. However, town officials have previously stated that they wouldn't take over other state-maintained roads in Cornelius until or unless a full inspection and cost analysis was completed.
Another artery where speed limits could be a factor of major interest will be the section of West Catawba Avenue between Westmoreland and Sam Furr Road, which is slated to be widened in the future. Once again, it appears that the state will have the final say. "There's much discussion pending about that portion of West Catawba at this time," Washam said, "and it's still too early to make any prediction on what speed limits the DOT will recommend."