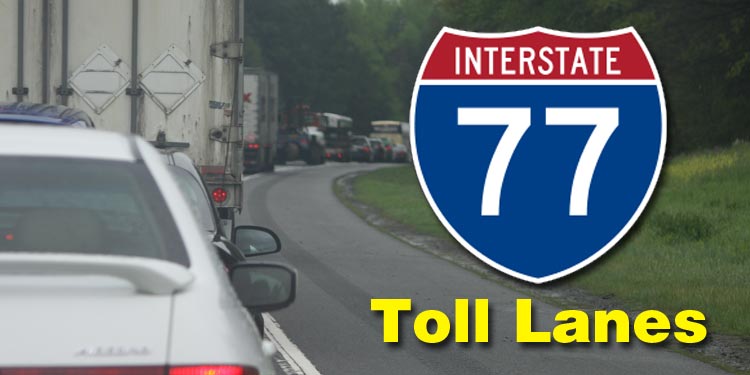 June 20. By Dave Vieser. When NC Rep. John Bradford went on Facebook to say he had some "incredible good news" about the hated I-77 toll lanes, everyone paid attention. The news was that the House of Representatives was working on legislation to create a source to fund a modification of the CINTRA toll lane contract.
Incredible it was. Now Bradford says we're in a "very tough" situation.
Here's what happened: The toll lane modification unanimously passed the House, and went on to the Senate, bu their version funded not just a modification but an actual cancellation of the contract. When the bill was sent back to the House on Friday for conciliation,  the language relating to the I-77 toll lane project was removed.
Now it looks like nothing will happen as the Short Session in Raleigh is drawing to a close. "I am uncertain what else can be done in the remaining days…but continue to look for opportunities. I believe that the solution will need to be a loan type structure to be re-paid by future tolling revenues and must avoid using STI funding from other currently scheduled projects," Bradford said, explaining that additional provisions added by the Senate would hurt other highway projects including widening Hwy. 73.
"I thought we legitimately had a shot at canceling the entire contract once we had the Senate commit to appropriating up to $620 million of STI funds to the effort," said NC Sen. Jeff Tarte, the former mayor of Cornelius.
He said I-77 is "the most critically important" transportation problem facing the region.
"If we don't solve that, those other roads and highways don't matter at all," Tarte said.
Local officials are understandably disappointed. "The House and Senate are both unanimous in wanting to fix this problem, but as of now we get nothing," said Cornelius Mayor Pro Tem Mike Miltich.
County Commissioner Jim Puckett, who has been vocal about the negative economic impact the toll lanes could have on the entire region, says everyone has to come together. "Almost 100 percent of the legislature agrees that this is a problem that needs to be fixed. But until we have the Senate, House and the DOT working on an agreed-upon solution, we're just taking stabs at trying to do something."
Puckett says he is happy the entire legislature is on board as having voted to end the contract.
The express lanes are expected to open this year. Additional work surrounding the project would continue into 2019, like the dual roundabouts at Griffith Street, the direct connectors at Hambright and Lakeview, and the pedestrian culvert under I-77. Final acceptance of the project is anticipated to happen next year.