July 16. The A2S Foundation, a nonprofit with a mission to provide sustainable programs that generate positive change for Nigerian youth and their communities, will host a scavenger hunt on Aug. 8 in Davidson.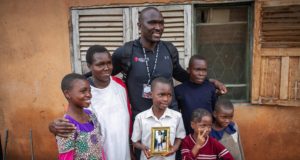 The outdoor family-style event will take place in the town where A2S founder Andrew Lovedale attended Davidson College, having come from Nigeria to go to college and play basketball. The A2S themed hunt takes participants around town to solve clues and complete challenges—all with proper social distancing.
The event launches at 9:30 am at the Ada Jenkins Center. To purchase tickets, visit a2shunt.givesmart.com or text A2SHunt to 76278.