March 28. The Davidson-Cornelius Child Development Center will hold the Davidson Home & Village Tour April 29. Centered on the Town Green, the walking tour will feature unique architectural styles, interior design, historical landmarks and local artists.
Adult admission is $40, children 2-12 are $15 with advance purchase. The event runs 10 amto4pm.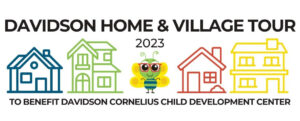 DCCDC provides high-quality early childhood education with scholarship support for children 6 weeks-Pre-K. About half the children receive sliding-scale financial assistance ranging from 35-75 percent of tuition. Proceeds from the Davidson Home & Village Tour will support tuition scholarships, teacher and staff, operational costs, and improvements to DCCDC.
Where to park
Free parking is available throughout the town in designated spaces. The walking tour begins at the Davidson green in front of the Library.
Check-in 
Your first stop is at the Davidson Town Green (119 South Main Street Davidson) where you will check in at the DCCDC tent. There you will receive your tickets required for entry at each home. You will also receive a map and booklet about each of the homes.
Pets
Pets are not permitted on the tour.
Walking tour
There are no parking spaces available at homes. All houses and sites are selected to be within walking distance from the check in location.
For tickets, click here.