July 21. The 19th annual "Big Day at the Lake" event takes place tomorrow, with cooler temps and fair skies, according to the National Weather Service.
This event is for the children in the non-profit Big Brothers Big Sisters of Central Carolinas program. Nearly every aspect of this day-long event is cost-free to the organization and its participants. This event is made possible through a large number of corporate sponsors, individual donors and volunteers. Over 90 children and nearly 60 Boat Hosts have signed up to participate.
"Big Day at the Lake is truly a big day for many people no matter their age or background. For a single summer day, it brings our local and regional community together for the purpose putting giant smiles on the faces of children and young adults that otherwise would not have the opportunity to enjoy Lake Norman," said veteran NC Rep. John Bradford, a Cornelius resident and veteran Boat Host and supporter.
It really is Big Day at the lake Day: All three North Meck towns have said so.
About BBBS
Big Brothers Big Sisters is a volunteer-based program that matches children who are at risk with volunteers for a one-on-one mentoring relationship that provides friendship, guidance and educational tutoring. These mentors also help them develop relationships to widen their experiences and their world.
The event is now in its 19th year and has become one of the most fun-filled days of the year for the kids in the BBBS program.
The day starts with a full morning of boating, tubing and swimming, culminating in a picnic for more than 400 participants.
Background
The concept is simple. Most of the children have never had the opportunity to boat, swim, or fish in a lake.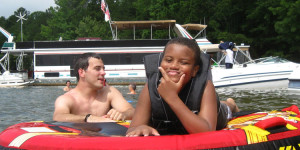 During Big Day, Lake Norman families serve as Boat Hosts and take the "Bigs" and "Littles" out for a morning of Lake activities.
After a morning of fun aboard the boats, the mentors, children and Boat Host families gather at Duke's Energy Explorium for a celebration picnic. They are treated to great food, music, a water slide, inflatable amusement equipment, ice cream and a host of other fun picnic activities.
Sidebar: The picnic itself is a massive undertaking.
Donors and sponsors
"The corporate sponsorships, individual donations, and volunteer commitments we receive are amazing," said Dave Yochum, editor of Cornelius Today, who founded the event 19 years ago. "Each year the event gains more momentum and the outpouring of generosity is more than we could have ever imagined."
Dozens of sponsors, region-wide, are providing monetary and in-kind donations.
For a list of sponsors and supporters, click here.
More than 75 volunteers from area businesses and other organizations provide fundraising and volunteer help, not only on event day but throughout the entire year.
"The fundraising goal for this year was $125,000 and we were able to surpass it by more than $20,000," Yochum said. "The generosity from our community is both overwhelming and humbling."
Financial impact
The Big Day at the Lake organization has raised more than $1.5 million for the Big Brothers Big Sisters since its inception in 2004.
For more information, visit the website, www.bigdayatthelake.com