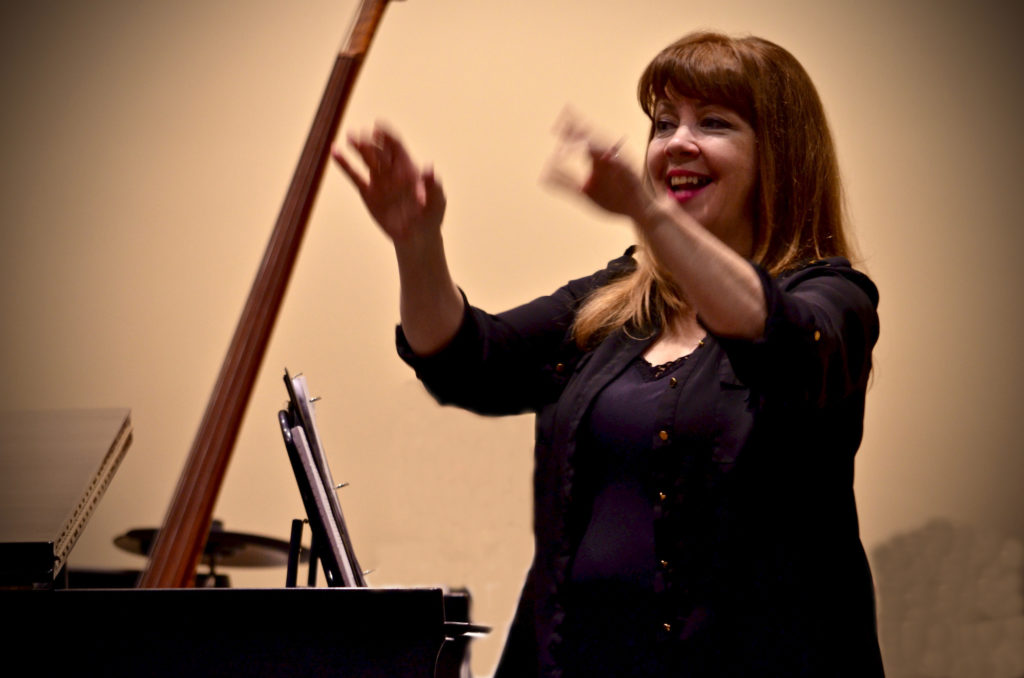 By Suzanne Fulton. Mix passion for patriotic music with substantial choral directing experience and the result is a patriotic program served to the public by Sandy Willard Rogers. She will direct the North Mecklenburg Community Chorus' Salute to American Liberty at Community in Christ Lutheran Church July 3.
"I've always loved patriotic programs. … And I love getting the community involved," she says.  "It gives them an opportunity to feel proud to be an American." The one-hour program starts at 5 p.m.
Rogers has been a  professional choral director, composer and arranger for more than three decades.
In addition to being the music director at Community in Christ Lutheran Church for the past five years, Rogers has been the music and artistic director for the North Mecklenburg Community Chorus since its founding in 2010. She also directs Second Act, a choral group at the North Mecklenburg Senior Center in Huntersville. Rogers has also been selected to write a composition for a new publication of lesser-known texts by Charles Wesley, the 18th century poet and lyricist, and younger brother of the founder of the Methodist church, John Wesley.
The Cornelius resident has worked for churches, a public school, choral groups and even state conventions. Her desire for a career in music began early. Piano studies began when she was third-grader in Dearborn, Mich.
Her first love is composing and arranging. "My first professional gig was as a junior in high school when I composed and arranged music for a beauty pageant contestant," she says.
She earned her bachelor's and master's degrees in music education from the University of South Carolina.
Immediately prior to working for Community in Christ, Rogers was employed by Huntersville United Methodist Church as minister of music for eight years. During those years, she also directed the Union Chorale in Union County.
Recalling that she was at the first board meeting of the North Mecklenburg Community Chorus, she thinks it's "fabulous" that the group has doubled in size to 60 members.  Its main performances are held each December and spring in Cornelius and neighboring towns. The 2016 spring concert offered all Beatles tunes.
For the December performance, she is planning "A Lawrence Welk Holiday." The songs will be from the orchestra leader's TV shows, and "we'll bring forth some fun surprises."
All performances are in churches—there are no large performance spaces for the general public in Lake Norman. "This area desperately needs an arts facility with performance space. You're limited to what you can perform at churches," she says.
To learn about singing with the chorus, visit www.nmccsings.org or attend its open house for the fall season Monday, Aug. 22, at 6:30 pm at Community in Christ Lutheran Church. Rehearsals begin the following Monday at 7:15 at the same location.