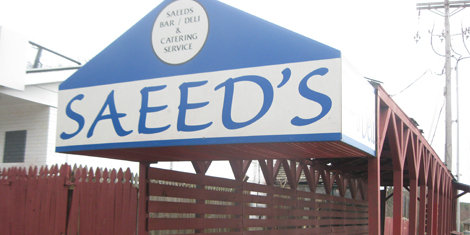 March 11. Saeed Safaie, owner and operator of Saeed's Bar and Grill has a message for everyone in and around Cornelius: "We're still open!" Despite the recent closure of  Sam's Express Mart in front of Saeed's on Catawba Avenue just east of I-77, his night spot remains open for food, drink and karaoke.
Safaie said he has received 50 calls in the past two weeks asking if his business also closed. "Absolutely not. We remain open and intend to stay that way," he said, standing outside the business at 20832 Catawba Ave.
The confusion was caused by the recent closing of the Sam's Express Mart, previously known as Joseph's Mart. Sam's took over management from Joseph Jaouny last year, but the lease ran out March 1. They chose not to exercise a five year option.
For lease signs are now posted on the convenience store and John Springsteed of Springsteed Realty, which has the listing, is optimistic it will be filled sooner rather than later. "I've already had several calls about that building. Remember, it doesn't have to be a convenience store, since it's zoned for retail business."
Springsteed says they are asking $3,900/month rent for the 2,400 square-foot store.
Meanwhile, Safaie is hoping that the town will give him permission to erect a "Saeeds is still open" sign at the curb. "Having that type of sign would really be very helpful." It sounds like Safaie may get his wish. Wayne Herron, Cornelius Planning Director, says "we would allow them up to a 60 day covering of the ground sign with a temporary sign that indicates he is still open."
Meanwhile, the 58 year old Iranian native who opened in 1999 takes great pride in what he calls "a good clean place. I'm especially proud of our karaoke operation."
His customers are equally impressed. "They have the best karaoke system, hands down, over any place in the Greater Charlotte area" said Peggy C of Charlotte in an online review published by Yelp.com. "And they offer karaoke 7 days a week."