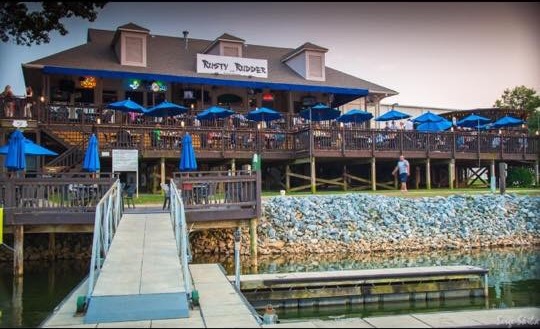 Sept. 6. An institution in lakefront entertainment in Cornelius is closing after more than 15 years. Rusty Rudder will close in October due to the non-renewal of their lease.
The Rudder staff was informed today of the news.
Rudder owners Eric Paul and Brian Johnston said the landlord has decided not to renew the lease.
The landlord is the McLeod Corp. Steve McLeod (rhymes with cloud) could not be reached for comment.
The Rusty Rudder is part of what may be one of the most important waterfront commercial parcels in Cornelius. The 4.66 acre site includes the prefab boat storage and warehouse, as well as boat slips, docks and various wooden structures.
The property, in total, is valued at more than $4 million, according to Mecklenburg County tax records.
The Rudder's rustic tiki bar is one of the most popular outdoor spots in Cornelius.
Rusty Rudder owners Eric Paul and Brian Johnston thanked vendors, businesses and musicians that have helped build the business. "Our local partners and support made a huge impact on our success," they said in a statement.
"We would like to thank everyone that has been a part of The Rudder over these amazing years. We have truly felt like a part of Cornelius and Lake Norman Community from day one, and we will miss it deeply."
There are no plans on file with the Town of Cornelius for the property.
Paul and Johnston will continue to own and run The Rusty Rudder Mount Pleasant outside of Charleston, SC.
PHOTO: Rusty Rudder Facebook https://www.facebook.com/therustyrudder/?fref=ts
Below are the Mecklenburg County tax records for the 4.66-acre site.
Tax Bills 
Photo 
Directions 
Polaris Map 
Print
Parcel Information
| Parcel ID | Account | Parent | Previous |
| --- | --- | --- | --- |
| 00150399A | NC CORP | | 00150399A |
Owner(s)
| Owner Name | Mailing Address | | City/State |
| --- | --- | --- | --- |
| MCLEOD CORP | 19701 W CATAWBA AVE | | CORNELIUS NC 28031 |
Legal Information
| Legal | Municipality | Date Annexed | Special District | Fire District | Acreage |
| --- | --- | --- | --- | --- | --- |
| NA | CORNELIUS | | FIRE SERVICE B | CORNELIUS | 4.66 |
Total Parcel Assessment

| Building | Land | Features | Total |
| --- | --- | --- | --- |
| 926900 | 2841900 | 283800 | 4052600 |

Exemptions

| Exemption | Year Approved | Review Date | Amount |
| --- | --- | --- | --- |
Sales Information
| Sale | Price | Stamps | Qualify | VI | Type | Legal Ref. | Grantor |
| --- | --- | --- | --- | --- | --- | --- | --- |
| Jul 22 1988 | 0 | | | IMP | WARRANTY D | 05833-419 | |
Land Use
| Use | Units | Type | Neighborhood | Assessment |
| --- | --- | --- | --- | --- |
| C700 | 202989.59 | SF | IN06 | 2841900 |
Building Information
| Bldg | Description | Type | Year | Property Location |
| --- | --- | --- | --- | --- |
| 1 | Commercial | CLUB-LODGE | 1987 | 20139 HENDERSON RD CORNELIUS |
| 2 | Rusty Rudder Commercial | RESTAURANT | 1994 | 20139 HENDERSON RD CORNELIUS |
| 3 | BOAT STORAGE Warehouse | PREFAB WHSE | 1994 | 20139 HENDERSON RD CORNELIUS |
| Bldg | Story | Units | Total SqFt | Heated SqFt | Foundation | Ext. Wall | Grade | Value |
| --- | --- | --- | --- | --- | --- | --- | --- | --- |
| 1 | 1 STORY | | 554 | 519 | SLAB-COM | FACE BRICK – | AVERAGE 03 | 28500 |
| 2 | 1 STORY | 1 | 6796 | 4626 | SLAB-RES | STUCCO HRDCT – CEM BR/SPL B | GOOD 05 | 514800 |
| 3 | 1 STORY | 1 | 49102 | 48142 | CRAWL SPACE | MODULAR MTL – | AVERAGE 02 | 383600 |
| Bldg | Heat | Fuel | Fire Place | AC | Fixtures | Bedrooms | Full Baths | 3/4 Baths | 1/2 Baths |
| --- | --- | --- | --- | --- | --- | --- | --- | --- | --- |
| 1 | HEAT – NONE | NONE | 0 – | AC-NONE | 12 | 0 | 0 | 0 | 0 |
| 2 | AIR-DUCTED | GAS | 0 – | AC-CENTRAL | 16 | 0 | 0 | 0 | 0 |
| 3 | HEAT – NONE | NONE | 0 – | AC-NONE | 2 | 0 | 0 | 0 | 0 |
Sub Area
| Bldg | Description | Size |
| --- | --- | --- |
| 1 | BASE (FIRST FLOOR) | 519 |
| 1 | PORCH – OPEN – FINISHED | 35 |
| 2 | BASE (FIRST FLOOR) | 3976 |
| 2 | PORCH – OPEN – FINISHED | 620 |
| 2 | PORCH – OPEN – FINISHED | 96 |
| 2 | UTILITY – FINISHED | 180 |
| 2 | BASEMENT – FINISHED | 650 |
| 2 | BASEMENT – UNFINISHED | 1274 |
| 3 | BASE (FIRST FLOOR) | 47736 |
| 3 | OFFICE – AVERAGE | 406 |
| 3 | GARAGE – UNFINISHED – DOOR | 960 |
Depreciation
| Bldg | Physical | Functional | Economic | Special | Override |
| --- | --- | --- | --- | --- | --- |
| 1 | AV – 43.00% | – 0.00% | – 0.00% | – 0.00% | – 0.00% |
| 2 | AV – 29.00% | – 0.00% | – 0.00% | – 0.00% | – 0.00% |
| 3 | AV – 29.00% | FUNC – 40.00% | – 0.00% | – 0.00% | – 0.00% |
Special Features & Yard Items
| Bldg | Built | Type | Quantity | Units | Value |
| --- | --- | --- | --- | --- | --- |
| 1 | 1964 | DOCK | 1 | 988.00000 | 6900 |
| 1 | 1964 | BOAT SLIP | 26 | 1.00000 | 16400 |
| 1 | 1964 | BOAT SLIP | 36 | 1.00000 | 37800 |
| 1 | 1964 | BOAT SLIP | 39 | 1.00000 | 41000 |
| 1 | 1964 | BOAT SLIP | 17 | 1.00000 | 10700 |
| 1 | 1964 | BOAT SLIP | 35 | 1.00000 | 22100 |
| 1 | 1964 | BOAT SLIP | 30 | 1.00000 | 18900 |
| 1 | 1964 | BOAT SLIP | 13 | 1.00000 | 8200 |
| 1 | 1990 | PIER | 2 | 200.00000 | 2100 |
| 1 | 1987 | BOAT SLIP | 10 | 1.00000 | 100 |
| 2 | 1994 | DECK | 1 | 2900.00000 | 9100 |
| 2 | 1994 | BOAT SLIP | 22 | 1.00000 | 23100 |
| 2 | 2000 | PIER/COVERED | 1 | 105.00000 | 1000 |
| 2 | 1994 | WASTE BIN | 2 | 200.00000 | 2000 |
| 2 | 2000 | PIER/COVERED | 1 | 200.00000 | 2000 |
| 2 | 1994 | BOAT RAMP | 1 | 120.00000 | 100 |
| 3 | 1994 | ASPH PAVING | 1 | 90000.00000 | 78800 |
| 3 | 2000 | GAZEBO | 1 | 210.00000 | 3500 |
Notes
Value Changes
Notice Date
Tax Year
Reason
Changed To
Deferred
Mar 21 2011 
2011
Countywide Revaluation
4065700
0
Dec 16 2003 
2003
Reviewed – No change in value
2798000
0
Mar 21 2003 
2003
Countywide Revaluation
2798000
0
Feb 20 1998 
1998
Countywide Revaluation
2357540
Jul 11 1997 
1997
Imp/Addn/Remod Completed for Tax Year
1860970
Jul 11 1997 
1997
Improvement/Addition/Remodeled Completed
1860970
May 26 1995 
1995
Reviewed – No change in value
2280960
Feb 10 1995 
1995
New Improvement
2280960
Mar 18 1994 
1994
Building Demolished
898770
Apr 15 1991 
1991
Countywide Revaluation
909300
Feb 22 1991 
1991
Countywide Revaluation
909300
Jan 2 1991 
1991
Countywide Revaluation
909300