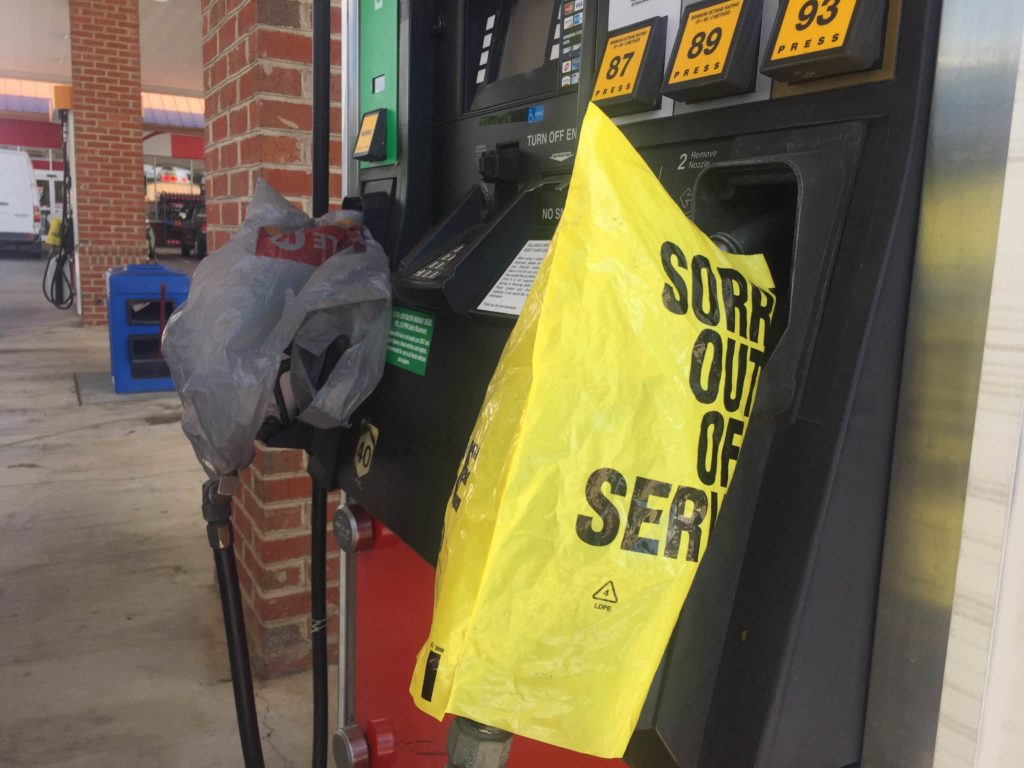 Sept. 20. UPDATE 9:30 PM. By Dave Yochum. It's happening: Slowly but surely Cornelius gas stations are running out of gasoline. The Cashion's in downtown Cornelius only had premium left to sell, and motorists were lining up to buy it. By mid-afternoon, the Circle K at West Catawba and One Norman Boulevard was out of gas, and there were lines at the Exxon just to the west of Magnolia Estates.
Update: Circle K had gas around 8:30 pm, according to Rick B. via Facebook message.
A gas shortage is under way, thanks to a breach in the Colonial Pipeline, the principal conveyance for petroleum products from the Gulf of Mexico to North Carolina, South Carolina, Georgia and Tennessee, and on north to where it ends in New Jersey.
A spokesman at Cornelius-based Cashion's said he anticipates a delivery tomorrow from Charleston—at considerably higher prices charged by wholesale distributors. Gasoline is more readily available at the coast where petroleum products arrive by barge.
It was unclear how much Cashion's would charge, but the mainstay of Cornelius business and civic affairs may very well lose money on each gallon sold.
"This is as challenging as it ever gets." He urged residents to not panic, don't top off their cars. "We are reserving product for first responders," the spokesman said.
How long supplies will last is anyone's guess.
In an exclusive local interview with Cornelius Today, international petroleum expert Tom Kloza said this part of the Southeast is "Ground Zero" for what looks like a serious but temporary interruption in the flow of petroleum products.
"It will be on for a couple of weeks," Kloza said, noting that the breach occurred Sept. 9. He is the global head of energy analysis at Oil Price Information Service, better known as OPIS is the petroleum industry.
Kloza compared the interruption of flow of gasoline to a "big air embolism headed to the Southeast." It means there is an undetermined stretch of "empty" pipeline on its way to North Carolina.
"Metaphorically what would be the gas system aorta just got stepped on, sorta," he said. "I hope it gets restarted in a couple of days." Nevertheless, gasoline isn't in the pipeline where it's supposed to be.
Meanwhile, gasoline prices have shot up nearly 20 cents for a gallon of unleaded gasoline. Cornelius resident Sheila Perry filled up her tank Monday afternoon even though her car's was half full, "just in case the price increases later this week."
There are reports of gas stations shutting down temporarily in some parts of the South.
The Colonial Pipeline runs through Birmingham, Atlanta, Charlotte and Greensboro, before ending in Linden, N.J. The company has mobilized a coordinated response effort with federal, state and local agencies; it is building a bypass around the breach.
"There may be a lot of bagged pumps, but it is not a long-term trend," Kloza said.
"There will be intermittend problems farther from the coast," he added, explaining that gasoline can be transported by barge to coastal cities.
Kloza said Colonial is known for running its operations "with integrity…this too shall pass."
Over in Concord, airport administrators have been in "constant contact with our fuel supplier" monitoring the situation. "We do not anticipate any impacts at this time," a spokesman said.