By Katie P. Sherman. Twenty-one successful women will be recognized at the 2017 Top Women in Business Awards, one of the oldest and largest events honoring women in Lake Norman and Cabarrus County.
This year's Top Women finalists are a diverse group, ranging from small business owners to physicians and Realtors. Business Today's Top Women awards have a 13-year-long history of recognizing excellence and leadership.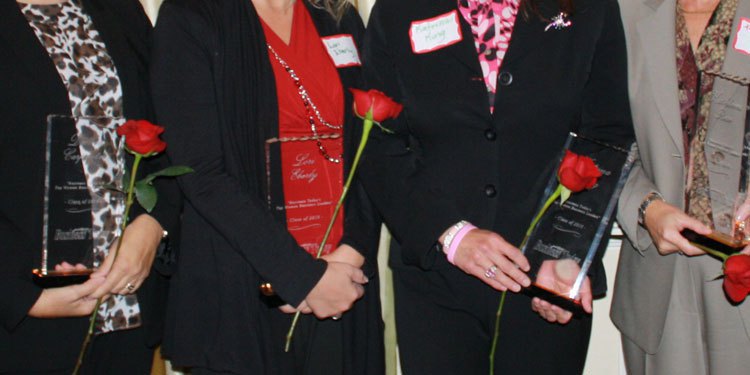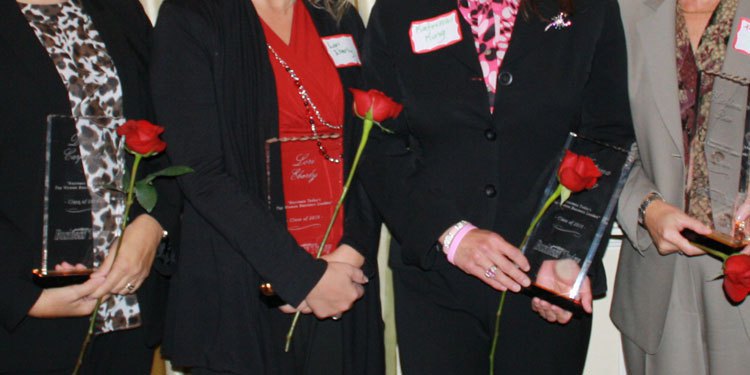 This year's stellar nominees say being true to yourself, doing more than what's called for, appreciating diversity and staying humble are some of the keys to success.  There are 20 nominees, and two women will receive a Lifetime Achievement award.
Here's one gem, from Jennifer Lidstrom: "If you love what you do, you will succeed. With passion you don't mind the extra hours, you don't mind the blood, sweat and tears that it will take to survive in the business world."
Successful women lead from a position of strength and compassion. All our nominees are successful, the exemplars will be announced at the 13th Annual Top Women Champagne Reception & Mini Expo Oct. 19 at River Run Country Club.
Successful women are also tough. This advice comes from Lori Savio: "Stay true to who you are and do not be afraid to ask for what you are worth."
The judges' criteria includes, in part, leadership skills, progress in achieving business or personal goals, charitable work, length of tenure with an organization, management of important projects or teams and ability to juggle challenging workloads with the demands of a family.
Reservations and pre-payment are required. To RSVP, call 704-895-1335. Tickets are $39 in advance.
Nominees
Candace Khashman
Proprietor, CoCo Couture, Active member of Lake Norman Chamber of Commerce & Sumaritan's Purse
Cheryl Pletcher
Executive Director, Carolina Comfort Coalition at Serenity House, Active member of North Mecklenberg Women's Club & Project Lazarus
Connie Rheinecker
Area Director for Cabarrus County, Big Brothers Big Sisters of Central Carolinas, Active member of Habitat for Humanity Cabarrus County, Kannapolis Friends of the Library Board & Meals on Wheels
Dede Dunst
Program Coordinator of Education Department, Mitchell Community College, Active member of Mint Museum Auxiliary Board & Junior League of Charlotte
Denise Curtis
Co-Owner & Physician Assistant, More than Faces Medical Spa
Active member of Executive Women of Lake Norman & The Corner Table Soup Kitchen of Hickory
Jennifer Lidstrom
Owner & Chief Physician, Lakeshore Sports Chiropractic Center
Active member of the chiropractic team responsible for U.S. Olympic athletes
Holly Grimsley
Owner, HolTon Construction Concepts, LLC; Grimsleys's Jewelry, LLC; Columbia Bed and Breakfast, LLC,
Active member of Cabarrus County Planning & Zoning Commission, American Red Cross, Cabarrus County Education, Concord-Afton Sunset Rotary (Public Image Committee Chair), Cabarrus Regional Chamber of Commerce & Home Builders Association and GOP Executive Board (Facilities Chair)
Jessica Castrodale
Community Outreach Coordinator, Carolinas HealthCare System NorthEast, Active member of Big Brothers Big Sisters Beyond School Walls, Cabarrus Farm and Food Council, Healthy Cabarrus Advisory Board, United Way Women in Leadership & United Way Health and Human Services Allocations Committee
Kay Fisher
Owner, Kay Fisher and Associates, LLC, Active member of Our Towns Habitat for Humanity (Board Member), Davidson Lands Conservancy (Board Member), Rotary Club of North Mecklenburg (PR Chair), Lake Norman Chamber of Commerce (Diversity Council Committee Member), Co-Chair Eco-Davidson, Davidson College Capstone Project/Community Partner,Developing Tomorrow's Legacy (Founder) & Keller Williams-Agent Leadership Council
Kelly Waugh
Owner, Lucky Dog LKN; Lucky Dog Charlotte; Lucky Dog Franchise, Active member of Bull Dog Beauty Pageant
Laura Engel
Independent Marketing Director and Shareholder Relations, Aquesta Bank, Active member of Hospice and Palliative Care Charlotte Region (Board of Directors), The Lauren Marie Kimsey Foundation for Synovial Sarcoma (Board of Directors), Big Day at the Lake Planning Committee & The Butterfly Run (Race Director)
Lindsay Mashburn
Owner & Physician, South Lake Women's Healthcare, PLLC
Lisa Nichols
Nurse Manager, Novant Health Huntersville Medical Center, Active member of Christ Community Church (Bookstore Volunteer), Community Health Fairs (Blood Pressure Screener) & Angels and Sparrows
Lori Savio
Owner, Ambiance Interiors Inc; The Shoppes at Home, Heart & Soul, Active member of NC Little Smiles Charity, Mrs. NC (Official Sponsor) & The Twilight Wish Foundation
Margaret Dabbs
Broker, Team Honeycutt—Allen Tate Company Active member of Centralina Board of Realtors, National Board of Realtors, Ombudsmen for the North Carolina Association of Realtors, Christian Fellowship Class of Central United Methodist Church (President) & Backpack Buddies
Mel Miller
Financial Advisor, Ameriprise Financial, Active member of Lake Norman Chamber, Business Sorority
(Founder/President) & Sandbox (Ambassador—Leadership Board)
Robin Byrd
Executive Director, Lake Norman Lucky Cat Program, Inc., Active member of Humane Society of Charlotte & the Charlotte
Community Cat Task Force
Shelia Brumlow
Owner, The OhananKey Company
Active member of Angels of '97 (Board Member), Big  Day at the Lake (Committee Member), Lake Norman
Chamber of Commerce, LakeNet & Lake Norman Small Business Network
Stephanie Wetzel
Vice President & Bank Manager, Capital Bank, Active member of Mooresville Soup Kitchen, My
Sister's House, Lowes YMCA (Finance Committee) & Lake Norman Chamber of Commerce
Susan Boaz
Owner, Flagology.com Active member of the International OCD Foundation (Board of Directors), Development Committee (Chair), Pediatrics Committee, PANDAS Physician's Network (Executive Director), A2A Alliance & Riley's Wish Foundation (Board of Trustees)